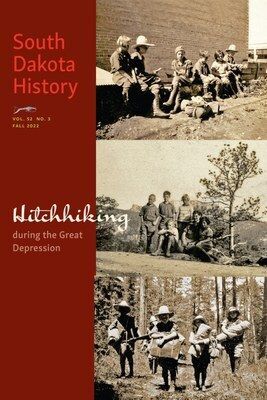 The latest issue of "South Dakota History," the quarterly journal of the South Dakota State Historical Society, showcases a unique document from the South Dakota State Archives. It is the travel journal of Earl Neller, who led a group of children on a one-of-a-kind tour of South Dakota during the height of the Great Depression.
In the summer of 1933, Neller, a teacher from St. Louis, Missouri, took six children—he and his wife Lydia's two daughters and one son as well as the son and daughters of a family friend—on a hitchhiking adventure from Sioux Falls, South Dakota, to Hebron, North Dakota. After Lydia Neller made plans to visit her parents in Hebron, Earl thought it would be instructive for the children to tramp their way across the Dakotas.
Between June 21 and July 17, when they finally reached Hebron, the travelers visited an array of towns, nature areas, and tourist attractions. At a stop in Mitchell, they saw the Corn Palace. During an extended tour of the Black Hills, they ventured to Mount Rushmore, Iron Mountain Road, Battle Mountain Sanitarium, Harney Peak, Wind Cave, Crystal Cave, Mount Moriah Cemetery, and the Homestake Mine. In addition to walking, they rode a train through the White River Badlands and caught several rides from kind strangers.
Author Matthew T. Reitzel, who has served as the manuscript/photo archivist with the State Archives program of the South Dakota State Historical Society for 17 years, reconstructs and contextualizes this group's unique journey. Alongside colorful excerpts from the travel journal, Reitzel offers insight into the social context of the time. The article includes several photographs taken by Earl Neller as well as contemporary images from the South Dakota State Archives that help bring the story to life. The final product should be of interest to both general readers and scholars of travel and tourism in the region.
"South Dakota History" is a benefit of membership in the South Dakota State Historical Society. For information on membership, call 605-773-6000. To purchase individual issues, call 605-773-6009.
About the South Dakota State Historical Society
The South Dakota State Historical Society is a division of the Department of Education. The State Historical Society, an Affiliate of the Smithsonian Institution, is headquartered at the South Dakota Cultural Heritage Center in Pierre. The center houses the society's world-class museum, the archives, and the historic preservation, publishing, and administrative/development offices. For questions or memberships, call 605-773-3458 or visit www.history.sd.gov for more information. The society also has an archaeology office in Rapid City; call 605-394-1936 for more information.