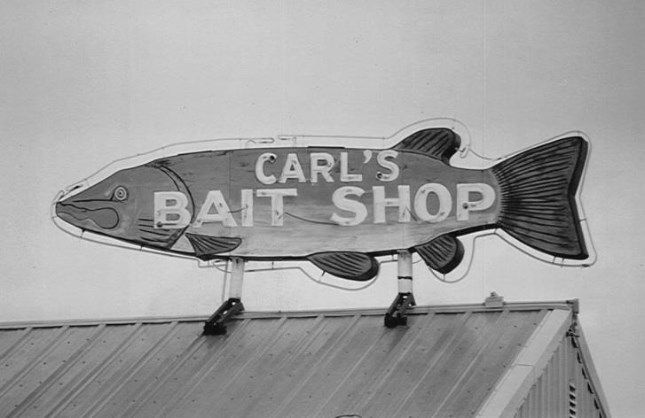 Iconic Bait Shop Sign Lives On 
THANKS TO OUR FISHING ENTHUSIASTS we were able to restore the iconic bait shop sign. 
The remaining funds that we are seeking are to add signage to the exhibits about the impact that fishing has on families and the economy. 
Every dollar helps us to reach our goal. 
READ MORE about the project. 
DO YOU REMEMBER driving into Fort Pierre on Highway 14 and seeing the iconic, neon sign of Carl's Bait Shop with the gigantic Northern Pike welcoming you to town?  Thanks to our generous donors the original sign can be seen again, all lit up on both sides, welcoming visitors to the exhibits at the Cultural Heritage Center in Pierre. 
Fishing enthusiasts still depend on the shop to find bait, tackle, and other necessities for an experience on Lake Oahe and Lake Sharp, some living a shared experience dating back several generations.  Since originally opening as Pete's Bait and Tackle Shop in 1949, Carl's Bait Shop has been a popular business for several generations. In 1963, Carl Walters purchased the shop and changed the name to Carl's Bait and Tackle Shop and added the icoic neon sign pictured above.
Why did we want to restore the sign?  Obviously, its iconic value to the local community is important, but fishing is one of the most popular outdoor activities in America and contributes over $271 million to South Dakota's economy as one of the drivers of the state's economic engine.  It is a sport and a business - and it has supplied generations of families with a common activity, food on the table, and great memories 
Our goal now is to offer more and better interpretation of wildlife-related recreation and the economic impact it has on our state. We cannot do this alone. Call (605) 773-6003 for more iformation or indicate your level of support on the form below. Thank you for your time and your consideration.
Interpretive signage goal.....$5,000
---