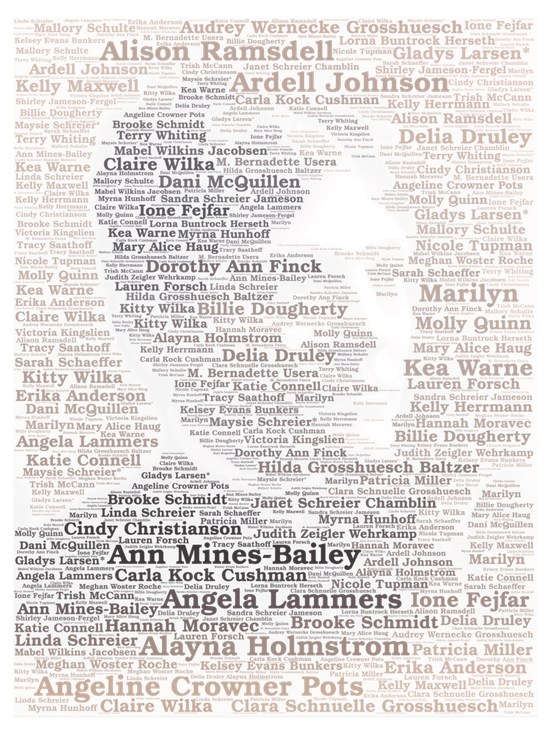 ---
Statewide Honor Wall
Funding women's history initiatives will amplify women's voices to honor the past, inform the present, and inspire the future.  We will capture stories of our great grandmothers, grandmothers, mothers, sisters, and daughters. Scroll down the page to learn more about the HerVote. Her Voice. celebration or honor a woman who has impacted our state's history through the Statewide Honor Wall.
STATEWIDE HONOR WALL Lift up a woman who has impacted South Dakota's history, past, present or future to be a part of our statewide Honor Wall. The wall will be available online throughout 2020 and will be showcased at Her Vote. Her Voice. signature events during celebration week August 18 - 26.
For each contribution of $100, we will list the name of a woman who you feel has impacted South Dakota's history.   
Yes! I want to add a deserving woman to the statewide honor wall!
Thank you to those who have already contributed!
"On behalf of the family, with this $300 contribution to Her Vote. Her Voice. we're honoring three very special women, our mother, aunt, and grandmother. Each was resilient and of strong character, making possible the raising of families, performing myriad tasks and jobs necessary to farm life, and participating in the spiritual formation of their children."
"In honor of my grandmother, the first woman to serve as a nurse in South Dakota. She was breaking barriers before women had the vote."
"My daughter beats to the sound of her own drum. I can't wait to see how she impacts our state's history."