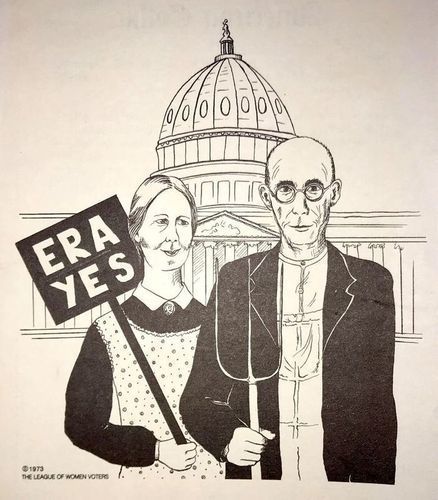 We are focused on ensuring South Dakota digital collections are not just lost and are accessible to the public
Commission on the Status of Women records
In the early 1960s, no one in South Dakota  had  heard the terms "women's liberation," "displaced homemaker,"  "battered wife," or "consciousness-raising." Congress, state legislatures, county and city commissions were bastions of male domination. Private clubs, Jaycees, Rotary, and Kiwanis excluded women. Few female students enrolled in engineering, science, agriculture, medicine, or law at the universities, and the business school discouraged female applicants. Women were paid less than men. Few girls participated in high school athletics. Most women expected to devote their lives to keeping house and rearing children, even if by choice or necessity, they worked for wages outside the home.
The Commission movement began in December 1961 when President John F. Kennedy signed the order establishing the President's Commission on the Status of Women (PCSW).  Chaired by former First Lady Eleanor Roosevelt, the commission investigated questions regarding women's equality in education, in the workplace, and under the law. 
In South Dakota, the Commission on the Status of Women (CSW) became a statutory state agency and received expenditure authority for a special study appropriation to conduct research concerning the needs of South Dakota women.  The Commission was charged with the responsibility for informing and educating the public.
The South Dakota Commission on the Status of Women collection represents one part of the women's movement on the northern plains.
This series contains administrative files including various publications including brochures and newspaper clippings, correspondence, subject files, and budget files pertaining to the committee on the Status of Women in the Division of the Secretary from 1976 to 1980.
State and national discussions of the Equal Rights Amendment (ERA) are included in these records. The records are mostly arranged by year and then alphabetically by topic of folder.
Photo Digitization project (85-180) 7 cubic feet . . . . . . . . . . . . . . . . . . . . . . . . goal $35,547
---
Yes! I want to help make possible the digitization of the collection, Commission on Status of Women!