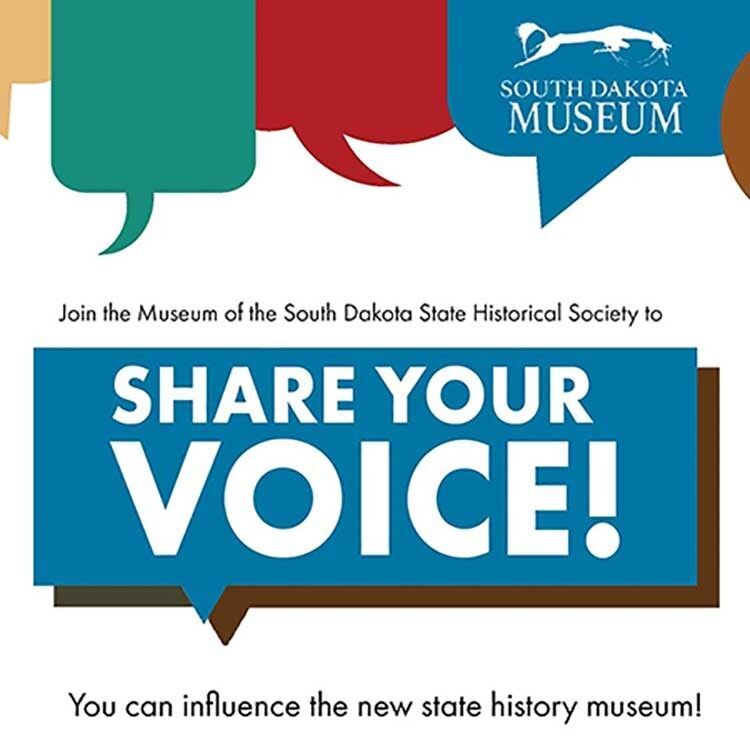 You are invited to share your thoughts and ideas with the South Dakota State Historical Society as we seek to create a history museum that connects and tells the story of all South Dakotans. You Participation will inspire conversations, create connections across the state, and provide invaluable feedback on content and design concepts for your history museum.


We will be in your area:
Timber Lake: October 11, 4:30pm CT, Timber Lake Museum

De Smet: October 13, 12pm CT, De Smet Event Center

Pierre: October 17, 4pm CT, Rawlins Municipal Library

Rapid City: October 18, 11am MT, Rapid City Public Library

Watertown: October 24, 12pm CT, Lake Area Technical Institute

Yankton: October 27, 4pm CT, Mead Museum

Sioux Falls: December 1, 12pm CT, Siouxland Library Downtown

Hot Springs: December 5, 12pm MT, The Mammoth Site
Deadwood: December 6, 4:30pm MT, Days of '76 Museum

Chamberlain: December 13, 12pm CT, Cozard Memorial Library
There will be a brief social time 15 minutes prior to the start of each session. More sessions will be scheduled in Rosebud, Aberdeen, and Brookings. Check back for updates on dates and times.