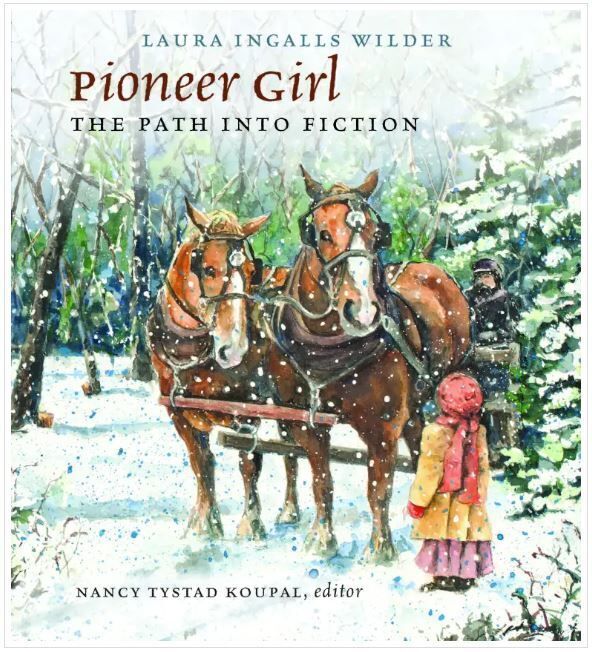 The latest book in the Laura Ingalls Wilder "Pioneer Girl" series will be released in late May of this year. The South Dakota State Historical Society is taking preorders for "Pioneer Girl: The Path into Fiction."
"Pioneer Girl: The Path into Fiction" completes the three-volume series examining Laura Ingalls Wilder's writing processes that took her from the autobiographical "Pioneer Girl" manuscript to publishing "Little House in the Big Woods." This journey was made possible by collaborative efforts with Wilder's daughter, Rose Wilder Lane, whose editorial skills and innate understanding of the literary agent's role strengthened her mother's writing and made publication possible.
When Laura Ingalls Wilder wrote her autobiography, "Pioneer Girl," she had no idea that children across the United States would read and fall in love with Laura Ingalls and her family just two years later. "Pioneer Girl: The Path into Fiction" traces the evolution of Wilder's matter-of-fact memoir of her girlhood in Wisconsin into a bestselling novel for children. Along the way, editor Nancy Tystad Koupal discloses previously unknown aspects of this story as she examines the various drafts of "Little House in the Big Woods."
When revised versions of "Pioneer Girl" failed to attract a publisher, Lane reframed the Wisconsin portion of her mother's memoir as juvenile fiction. The resulting 21-page picture-book manuscript, "When Grandma Was a Little Girl," featured Pa's well-honed tales told within the cozy Ingalls home in 1870s Wisconsin. This manuscript captured the attention of a New York publisher, who wanted more words—15,000 more words—about pioneer life for readers ages 8-10. Accepting the challenge, Wilder returned to "Pioneer Girl" for additional material. As she wrote, she created multiple drafts and a completed manuscript for Lane to edit and type. Collecting all the unpublished drafts in "Pioneer Girl: The Path into Fiction," editor Koupal documents Wilder's process and explores the roles of authors, editors, and agents in the crafting of children's fiction.
"Pioneer Girl: The Path into Fiction" may be preordered for $39.95, plus shipping and tax, at sdhspress.com. Books will be shipped on May 30, 2023. Booksellers may contact orders@sdhspress.com to place orders for their business.
About the South Dakota State Historical Society
The South Dakota State Historical Society is a division of the Department of Education. The State Historical Society, an Affiliate of the Smithsonian Institution since 2013, is headquartered at the South Dakota Cultural Heritage Center in Pierre. The center houses the society's world-class museum, the archives, and the historic preservation, publishing, and administrative/development offices. For questions or memberships, call 605-773-3458 or visit www.history.sd.gov for more information. The society also has an archaeology office in Rapid City; call 605-394-1936 for more information.