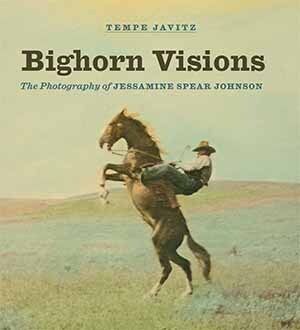 Bighorn rancher and photographer Jessamine Spear Johnson's portfolio is the focus of a new book from the South Dakota State Historical Society. The book is "Bighorn Visions: The Photography of Jessamine Spear Johnson," written by Johnson's granddaughter, Tempe Javitz.
Born in 1886 to pioneer parents on the eastern front of the Bighorn Mountains, Jessamine Spear Johnson would grow up to document many of the dramatic changes that this region would see over the next century. After first picking up a camera at age 11, Johnson developed into a uniquely gifted artist, all while helping manage the family ranch. Through her photography, Johnson captured the rapid advancements occurring around her, especially from the 1910s through the 1940s.
During these years, a burgeoning dude ranch industry brought new visitors to this remote area, and technological changes reshaped the nature of work. At the same time, the Crow and Cheyenne in the region struggled with being confined to reservations as they sought new livelihoods to support their families, all while maintaining old traditions and establishing new ones. As "Bighorn Visions" shows, Johnson's camera captured not only the day-to-day nuances of ranch life but also changing gender norms, transformations on the reservations, and the abundant natural wonders of northeastern Wyoming and southeastern Montana.
Tempe Javitz, Johnson's granddaughter, has compiled more than 100 of Jessamine's photographs for this volume, the first publication to showcase her work in such detail. Javitz also contributes vital essays and informative captions that contextualize her grandmother's life and work. In addition, historian Mary Murphy situates Johnson's life and career in relation to broader shifts in ranching, tourism, and photography in the region in a wide-ranging introduction. Collectively, "Bighorn Visions" is both a must-read for those interested in the 20th century West and a striking document of a skilled photographer's work.
"Bighorn Visions: The Photography of Jessamine Spear Johnson" can be preordered for $29.95, plus shipping and tax, at www.sdhspress.com. Books will be shipped on April 11, 2023. Booksellers can contact orders@sdhspress.com to place orders for their business. For more information about the South Dakota Historical Society Press and its books, please visit sdhspress.com and follow @sdhspress on Facebook, Instagram, and Twitter.
About the South Dakota State Historical Society
The South Dakota State Historical Society is a division of the Department of Education. The State Historical Society, an Affiliate of the Smithsonian Institution since 2013, is headquartered at the South Dakota Cultural Heritage Center in Pierre. The center houses the society's world-class museum, the archives, and the historic preservation, publishing, and administrative/development offices. For questions or memberships, call 605-773-3458 or visit www.history.sd.gov for more information. The society also has an archaeology office in Rapid City; call 605-394-1936 for more information.