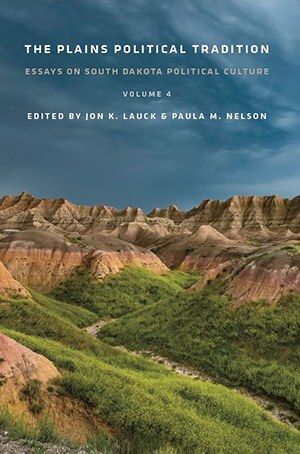 The next book from the South Dakota State Historical Society, The Plains Political Tradition: Essays on South Dakota Political Culture, volume 4, is now available for preorder at sdhspress.com.
South Dakota's unique blend of ethnic cultures, varied landscapes, and small, mainly agrarian population have made for fascinating politics. This fourth volume of The Plains Political Tradition offers 10 essays on diverse aspects of the region's political history, from nonindigenous settlement patterns to campaign strategies to the shaping of state budgets. Employing a broad definition of political culture, editors Jon K. Lauck and Paula M. Nelson present a wide variety of eyewitness as well as scholarly perspectives in this anthology. Contributors include Justin Blessinger, Michael Card, Marshall Damgaard, Sean J. Flynn, Paul Higbee, Jon K. Lauck, Paula M. Nelson, Randi Ramsden, Gregory Rose, Tonnis H. Venhuizen, Daryl Webb, and Paul Wilson.
This fourth installment of The Plains Political Tradition series builds on the previous three volumes, providing insight into the antecedents that made South Dakota a political anomaly in comparison with some of its neighboring states. Throughout this series, the understanding of political culture has remained an eclectic one, encompassing elements of both thought and behavior. In addition to attitudes, beliefs, assumptions, values, and ideology, it includes roles, symbols, practices, procedures, habits, traditions, organizations, and institutions, among other things.
Writers in The Plains Political Tradition series have filled in many of the details with analyses of politics and religion, education, transportation, women's issues, immigration, ethnicity, Native Americans, economic development, and other subjects. Studying literature, environmentalism, war and peace, local government, U.S. Senate and gubernatorial elections, business, farm organizations, planning, and geography, these authors probed many of the nooks and crannies of South Dakota's political culture and greatly added to our knowledge of the assumptions, ideas, mechanisms, organizations, and processes of statewide politics.
The Plains Political Tradition, volume 4, may be ordered for $34.95, plus shipping and tax, at sdhspress.com. Booksellers may contact orders@sdhspress.com to place orders for their businesses.
About the South Dakota State Historical Society
The South Dakota State Historical Society is a division of the Department of Education. The State Historical Society, an Affiliate of the Smithsonian Institution, is headquartered at the South Dakota Cultural Heritage Center in Pierre. The center houses the society's world-class museum, the archives, and the historic preservation, publishing, and administrative/development offices. For questions or memberships, call 605-773-6000 or visit www.history.sd.gov for more information. The society also has an archaeology office in Rapid City; call 605-394-1936 for more information.