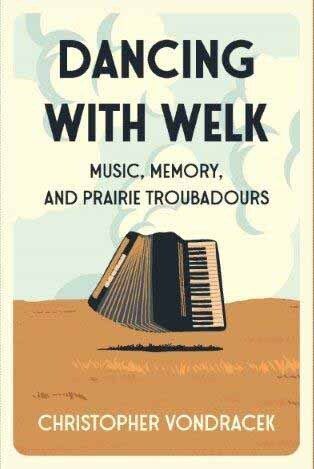 The South Dakota State Historical Society's Sept. 8 virtual "History Talk" will feature Christopher Vondracek and his new book, "Dancing with Welk: Music, Memory, and Prairie Troubadours."
The book from the South Dakota Historical Society Press follows the footsteps of Lawrence Welk with the early 2000s band, the Brickhouse Boys, as they attempt to become famous, in the middle of nowhere. Over 50 years prior, Welk, a young accordionist and bandleader from Strasburg, North Dakota, whose brand of "champagne music" garnered him legions of dedicated fans and a long-running television series, had managed to do just that. "Dancing with Welk" blends memoir, travelogue, and cultural history to create a nuanced and often hilarious ode to the landscapes and musical traditions of the Northern Great Plains and is now available for preorder at sdhspress.com.
Vondracek will discuss the adventure of writing this book at 7 p.m. CDT on Thursday, Sept. 8, via Zoom. His presentation is free to the public. To register, go to sdhsf.org/events.
The book is a portrait of a young person navigating both personal and professional crossroads while traversing a vividly rendered landscape, and Vondracek chronicles his efforts to mine inspiration from Welk's autobiography while puzzling over the prairie troubadour's unlikely journey to stardom. Along the way, the author struggles to keep his band together, delves into his family history, and questions what it means to be a musician. In addition to offering new insights into Welk's life and career, Vondracek's narrative takes readers on a one-of-a-kind tour through the region, with stops at dive bars, historic sites, and the World's Only Corn Palace.
"Dancing with Welk: Music, Memory, and Prairie Troubadours" can be preordered for $24.95, plus shipping and tax, at sdhspress.com. The book will be released on Sept. 6, 2022. Booksellers may email orders@sdhspress.com to place orders for their business. For more information about the South Dakota Historical Society Press and its books, please visit sdhspress.com and follow @sdhspress on Facebook, Instagram, and Twitter.
The South Dakota State Historical Society is a division of the Department of Education. The State Historical Society, an Affiliate of the Smithsonian Institution since 2013, is headquartered at the South Dakota Cultural Heritage Center in Pierre. The center houses the society's world-class museum, the archives, and the historic preservation, publishing, and administrative/development offices. For memberships or questions, call 605-773-3458 or visit www.history.sd.gov for more information. The society also has an archaeology office in Rapid City; call 605-394-1936 for more information.