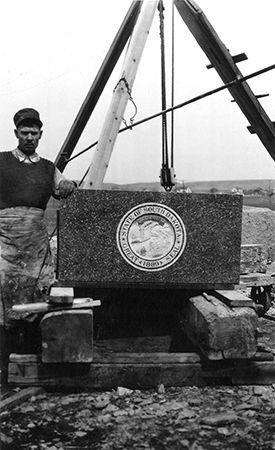 This month is the one-hundred-year anniversary of the official dedication of South Dakota's memorial stone at the Washington Monument in Washington DC.
In 1921, the South Dakota State Legislature appropriated 300 dollars for the addition of a South Dakota memorial stone to the Washington Monument. Senator Theorus R. Stoner of Lead introduced the bill.
The official dedication of South Dakota's memorial stone in the Washington Monument was held on June 22, 1922, with South Dakota Senator Thomas Sterling presiding. South Dakota Governor William McMaster was unable to attend the event, though a telegram was read with his remarks. Those who made statements included Senator Peter Norbeck, Congressmen Royal C. Johnson, Charles A. Christopherson and William Williamson. Peter Norbeck's daughter Nellie unveiled the commemorative stone.
Pierre stonecutter and monument maker Thomas Jacobs carved the two feet wide, four feet long by six-inch thick, mottled green granite slab quarried from local Pierre stone featuring the state seal of South Dakota. The South Dakota commemorative stone was dedicated at the Washington Monument on June 22, 1922.
A program from the June 22, 1922, dedication event is found online at the South Dakota Digital Archives, by searching "Washington Monument."
The South Dakota State Archives is in the Cultural Heritage Center in Pierre. The State Archives is open Monday through Friday, 9:00 to 4:30. You can contact the archives by phone at (605) 773-3804 or email archref@state.sd.us
About the South Dakota State Historical Society
The South Dakota State Historical Society is a division of the Department of Education. The State Historical Society, an Affiliate of the Smithsonian Institution since 2013, is headquartered at the South Dakota Cultural Heritage Center in Pierre. The center houses the society's world-class museum, the archives, and the historic preservation, publishing, and administrative/development offices. Call (605) 773-3458 or visit www.history.sd.gov for more information. The society also has an archaeology office in Rapid City; call (605) 394-1936 for more information.