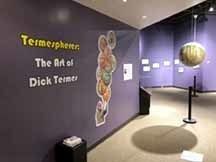 "Termespheres: The Art of Dick Termes" is now open at the Cultural Heritage Center in Pierre and runs through Aug. 29.
Termespheres are 3D art objects that capture an entire environment – up, down, left, right, front, and back – to depict a complete, closed universe. The exhibit features 13 Termespheres.
Raised in Spearfish, SD, Dick Termes earned an art degree from Black Hills State University in 1964, a master's in art in 1969 from the University of Wyoming, and a Master of Fine Arts at the Otis Art Institute of Los Angeles County in 1971.
Termes taught at Black Hills State University before joining the South Dakota State Arts Council in 1972 as an Artist in the Schools. Eventually he pursued his art on a full-time basis and in 1992 opened the Termesphere Gallery. Termes received the Governor's Award for Distinction in Creative Achievement in 1999 and was inducted into the South Dakota Hall of Fame in 2014.
There will be an artist meet-and-greet on Saturday, June 25, at 1 p.m. CDT (12 p.m. MDT) followed by a video/lecture. Termes will show examples of his Termespheres, Polyhedra Paintings and the Total Photos along with short videos of the Termespheres he has painted over many years. He will explain why and how he painted these pieces and share fun stories about his work. 
Museum hours at the Cultural Heritage Center are 10 a.m.-4:30 p.m. (9 a.m.-3:30 p.m. MDT) Monday through Saturday and 1-4:30 (12-3:30) on Sundays. Call 605-773-3458 for more information. For information on membership in the South Dakota State Historical Society call 605-773-6000.
About the South Dakota State Historical Society
The South Dakota State Historical Society is a division of the Department of Education. The State Historical Society, an Affiliate of the Smithsonian Institution since 2013, is headquartered at the South Dakota Cultural Heritage Center in Pierre. The center houses the society's world-class museum, the archives, and the historic preservation, publishing, and administrative/development offices. Call (605) 773-3458 or visit www.history.sd.gov for more information. The society also has an archaeology office in Rapid City; call (605) 394-1936 for more information.