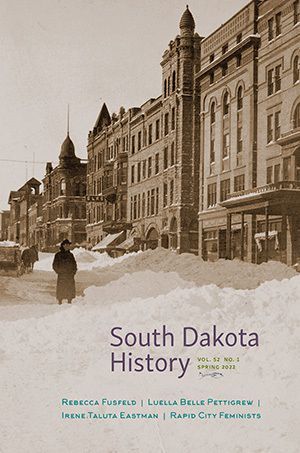 A missionary educator, a Jewish poet from Sioux Falls, an Indigenous singer, and an exciting resource for scholars of women's history are highlighted in the latest issue of "South Dakota History," the quarterly journal of the South Dakota State Historical Society.
Anna Amundson's article "Rebecca Fusfeld: Jewish Prairie Poet" explores the life and poetry of Rebecca Fusfeld, a Jewish woman who immigrated to Sioux Falls in the late 19th century. Her poems, which many local publications featured prominently, illuminate the activities of the city's vibrant Jewish community. Amundson holds a Ph.D. from Florida State University and currently teaches at Augustana University in Sioux Falls.
"'I have felt a great zeal for this work': The Educational and Evangelical Mission of Luella Belle Pettigrew," by Lisa R. Lindell, narrates the work and travels of this missionary educator, a member of the influential Pettigrew family. Pettigrew used her leadership roles in several organizations to promote many causes, including girls' education and temperance. Lindell is a catalog librarian at South Dakota State University's Hilton M. Briggs Library in Brookings.
In "'Good Night, Irene': The 1918 Influenza Pandemic and Irene Taluta Eastman," Julie Dobrow and Raymond Wilson document the life of Irene Taluta Eastman, daughter of Dr. Charles and Elaine Eastman. Irene possessed a skillful singing voice, which she used to educate audiences about Indigenous culture. Her death after contracting what many at the time called "Spanish Influenza" deepened a growing rift in her parents' marriage. Dobrow is director of the Center for Interdisciplinary Studies at Tufts University in Middlesex County, Massachusetts, and Wilson is a professor emeritus at Fort Hays State University in Hays, Kansas.
In a Dakota Resources feature titled "Feel the RAGE: New Directions for South Dakota Gender History," Mary Andino showcases the research potential of the Rapid City Punk Rock Archive. Through analysis of a Rapid City feminist zine from the 1990s, she demonstrates how such sources can move women's history in new directions. Andino is a former associate editor at the South Dakota Historical Society Press and holds a Ph.D. in history from Washington University in St. Louis.
"South Dakota History" is a benefit of membership in the South Dakota State Historical Society. For information on membership, call 605-773-6000. To purchase individual issues, call 605-773-6009.
About the South Dakota State Historical Society
The South Dakota State Historical Society is a division of the Department of Education. The State Historical Society, an Affiliate of the Smithsonian Institution since 2013, is headquartered at the South Dakota Cultural Heritage Center in Pierre. The center houses the society's world-class museum, the archives, and the historic preservation, publishing, and administrative/development offices. Call 605-773-3458 or visit www.history.sd.gov for more information. The society also has an archaeology office in Rapid City; call 605-394-1936 for more information.