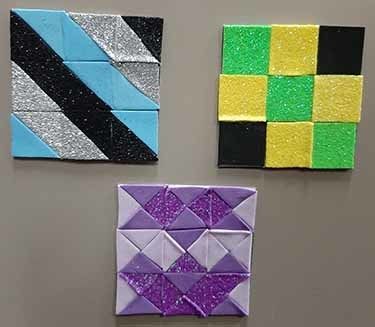 Visitors can pick up a project bag to create their own nine-patch quilt block ornament at home during the March 19 Family Fun Saturday Take-to-Make at the Cultural Heritage Center in Pierre.
Instructions and project materials are included in the bags, which can be picked up from 10-11:30 a.m. CDT (9-10:30 a.m. MDT). Video instructions will be posted on the museum's website at history.sd.gov/museum and Facebook page, South Dakota Cultural Heritage Center.
"On a chilly winter evening nothing feels better than snuggling up with a warm quilt," said Ronette Rumpca, museum curator of interpretation. "It may be a modern machine-made covering or a quilt painstakingly hand stitched."
A nine-patch quilt block is made by joining nine squares of fabric to form a larger square. The block can consist of nine plain squares of fabric sewn together or made more ornate by piecing the squares together out of smaller fabric bits.
"The pattern was popular with homesteaders who had neither time nor fabric to spare. Nine-patch quilts could be quickly sewn together to make a warm blanket," said Rumpca. "We'll provide the nine squares for a simple block. Visitors can cut the squares into smaller pieces like triangles to create more complex patterns on their ornament if they like."
Museum hours are 9 a.m.-4:30 p.m. CDT (8 a.m.-3:30 p.m. MDT) Monday through Saturday and 1-4:30 p.m. CDT (12-3:30 p.m. MDT) on Sundays. Admission is free for South Dakota adults and all children. For information on membership in the South Dakota State Historical Society, call 605-773-6000.
About the South Dakota State Historical Society
The South Dakota State Historical Society is a division of the Department of Education. The State Historical Society, an Affiliate of the Smithsonian Institution since 2013, is headquartered at the South Dakota Cultural Heritage Center in Pierre. The center houses the society's world-class museum, the archives, and the historic preservation, publishing, and administrative/development offices. Call 605-773-3458 or visit www.history.sd.gov for more information. The society also has an archaeology office in Rapid City; call 605-394-1936 for more information.