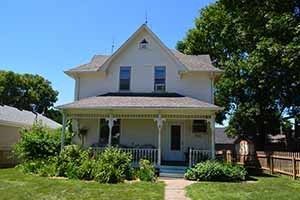 An article from "South Dakota History," the quarterly journal of the South Dakota State Historical Society, has won the prestigious Michael P. Malone Award from the Western History Association.
"'Not a Tinker's Damn': The Politics of Suffrage in the South Dakota Election of 1918," written by Gerard Boychuk, was part of a special issue that highlighted the centennial of the ratification of the Nineteenth Amendment to the United States Constitution, which granted most women equal voting rights.
"We are honored to be given this award," said Dedra Birzer, South Dakota State Historical Society Research and Publishing director. "It shows the importance of our state's history in the greater context of the American West."
In celebration, the South Dakota Historical Society Press is making Boychuk's article available for free download at sdhspress.com/journal.
Boychuk's article explores how electoral politics—specifically the Republican Party's efforts to halt the rise of the Nonpartisan League in the state and the political climate of World War I—led to the passage of Amendment E, which tied women's voting rights to alien disenfranchisement. While state suffrage leaders initially expressed concern about this plan, they soon embraced this effort to base voting rights on citizenship rather than sex, and it became law in 1918. Boychuk is a professor of political science at the University of Waterloo in Waterloo, Ontario.
"'Not a Tinker's Damn' [is] an excellent case study with a clear contribution to state history," wrote one award committee member. "This article tightly and effectively focuses on answering the question -- How did the suffrage fight of 1918 in South Dakota succeed when the issue had gone down to defeat in earlier efforts?"
The Western History Association offers the Michael P. Malone Award for the best article, essay, or commentary on state, provincial, or territorial history in North America appearing in a periodical publication. Malone (1940-1999) was an American historian. His final work, "The American West" (co-written with South Dakota Historical Society Press author Richard W. Etulain ["Abraham Lincoln: A Western Legacy"]), was nominated for a Pulitzer Prize.
"South Dakota History" is a benefit of membership in the South Dakota State Historical Society. For information on membership, call 605-773-6000. To purchase individual issues, call 605-773-6009 or visit sdhspress.com/journal. All issues published prior to 2012 are available to download for free at sdhspress.com.
About the South Dakota State Historical Society
The South Dakota State Historical Society is a division of the Department of Education. The State Historical Society, an Affiliate of the Smithsonian Institution since 2013, is headquartered at the South Dakota Cultural Heritage Center in Pierre. The center houses the society's world-class museum, the archives, and the historic preservation, publishing, and administrative/development offices. Call 605-773-3458 or visit www.history.sd.gov for more information. The society also has an archaeology office in Rapid City; call 605-394-1936 for more information.