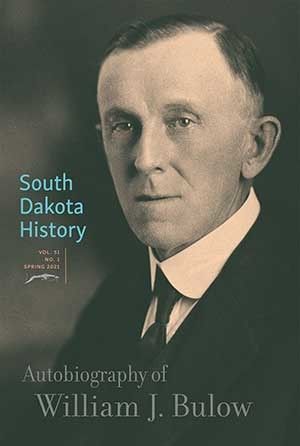 The latest issue of "South Dakota History," the quarterly journal of the South Dakota State Historical Society, includes excerpts from the autobiography of William J. Bulow, Sr., a two-term governor and United States senator.
In "'Three Score Years and Ten': Selections from the Autobiography of William J. Bulow, Sr.," edited by Tonnis H. Venhuizen, multiple pieces from Bulow's unpublished manuscript illustrate his life and political career as well as the political culture of South Dakota and the United States in the early 20th century.
Born and raised in Ohio, Bulow received a law degree from the University of Michigan before moving west to South Dakota. He started his law career with the firm of Joe Kirby in Sioux Falls. After leaving Kirby's firm, he established his own practice in Beresford. Unexpectedly, he entered politics in 1924 when he replaced his friend Andrew S. Anderson, who died in a freak accident, as the Democratic nominee for governor. He lost that race, but ran again two years later, defeating the incumbent William H. McMaster. For the next 15 years, Bulow served the state as its governor and then as one of its United States senators. After his defeat in 1942, Bulow sat down to write his life story.
Venhuizen is the former chief of staff for Gov. Kristi Noem and serves on the Trail of Governors board of directors.
"A Note from the Managing Editor" recognizes the work of Jeanne Kilen Ode, who stepped down this winter as the managing editor of "South Dakota History." Ode started with the Research and Publishing Office in 1985, working closely with the journal before becoming managing editor in 2014. Ode's contributions to "South Dakota History" bolstered its reputation as one of the premier quarterly journals in the region.
"South Dakota History" is a benefit of membership in the South Dakota State Historical Society. For information on membership, call 605-773-6000. To purchase individual issues, call 605-773-6009.
About the South Dakota State Historical Society
The South Dakota State Historical Society is a division of the Department of Education. The State Historical Society, an Affiliate of the Smithsonian Institution since 2013, is headquartered at the South Dakota Cultural Heritage Center in Pierre. The center houses the society's world-class museum, the archives, and the historic preservation, publishing and administrative/development offices. Call 605-773-3458 or visit www.history.sd.gov for more information. The society also has an archaeology office in Rapid City; call 605-394-1936 for more information.