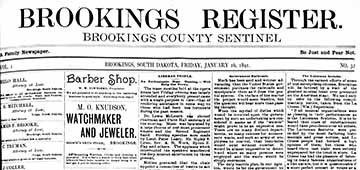 Several more South Dakota towns are represented in the digitized historical newspaper collections on Chronicling America, the South Dakota State Historical Society-Archives has announced.
For the first time historic newspapers from Brookings have been digitized, including Brookings County Sentinel (1882 - 1890), Brookings Register (1890 - 1894), Semi-Weekly Register (1894 – 1898), Brookings Weekly Register (1898 - 1903), and The Brookings Register (1903 - 1905). These newspapers were all predecessors of the current Brookings Register. More issues of the Brookings Register up to 1923 will be added as the project continues.
More recently digitized titles also represent Tabor, Custer, Eureka, Kadoka, and Miller.
"The new batch joins other newspaper titles from across the state of South Dakota that were digitized and made available during previous grants," said Chelle (SHEL-ee) Somsen, state archivist. "There are now 77 different newspapers available online."   
These newspapers can be viewed online by visiting the Chronicling America website: https://chroniclingamerica.loc.gov/newspapers/south%20dakota/
The State Historical Society-Archives was awarded a third round of grant funding from the National Endowment for the Humanities to continue digitizing historical newspapers in 2018. The project is part of Chronicling America, a Library of Congress initiative to develop an online database of select historical newspapers from around the United States. As part of the grant, the State Historical Society-Archives will digitize approximately 100 rolls of microfilmed newspapers pre-dating 1924 over two years.
For more information, contact the State Historical Society-Archives at 605-773-3804. State Archives hours at the Cultural Heritage Center in Pierre are 9 a.m.-4:30 p.m. CST Monday-Friday and visitation is by appointment only during the pandemic. To join the State Historical Society, please visit the website www.history.sd.gov.
Possible cutline: This newspaper masthead is from the January 16, 1891, Brookings Register. (Photo courtesy South Dakota State Historical Society-Archives)
About the South Dakota State Historical Society
The South Dakota State Historical Society is a division of the Department of Education. The State Historical Society, an Affiliate of the Smithsonian Institution since 2013, is headquartered at the South Dakota Cultural Heritage Center in Pierre. The center houses the society's world-class museum, the archives, and the historic preservation, publishing, and administrative/development offices. Call 605-773-3458 or visit www.history.sd.gov for more information. The society also has an archaeology office in Rapid City; call 605-394-1936 for more information.