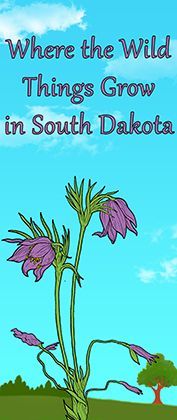 The new exhibit "Where the Wild Things Grow in South Dakota" opens on Saturday, Dec. 12, at the Cultural Heritage Center in Pierre.   It will look at a few of the many South Dakota native plants used for food, medicine, and meeting spiritual needs. 
"The Observation Gallery is an excellent space to feature 'Where the Wild Things Grow in South Dakota,'" said Jay Smith, museum director. "Some native plants like yucca can be seen growing on the hillside around the Cultural Heritage Center."  
South Dakota is home to a wide variety of native plants. A plant is considered native if it occurs naturally in an ecosystem without being introduced by people. American Indians of the region were experts at recognizing and using the plants in the plains environment. Plants were used for food, medicine, household items, adornments, and as part of a rich spiritual life.  
As a source for food, South Dakota's environment provides many plants that can be eaten out-of-hand or prepared into nutritious food. Chokecherries and wild plums offer tasty bites in season. Prairie turnips continue to be an important food for tribal members.  
Many of South Dakota's native plants are effective medicines for a variety of ailments. American licorice roots offer relief for toothache as well as upset stomach, fever, and sore throat. Ponderosa pine pitch works as an ointment for sores, backaches, rheumatism, and inflamed eyes. Boiled cedar leaves and fruits provide relief for coughs, and burning cedar twigs create fumes that can be inhaled to alleviate colds.  
Many cultures burn herbs and other plants or materials as a spiritual ritual. Sweetgrass and prairie sage are often used for this purpose in Lakota ceremonies.  
The museum is open for visitors and has coronavirus protocols in place. A check-in station at the front door allows visitors to check their temperature and pick up a face mask and gloves if they wish to wear them while enjoying the galleries. Signage encourages visitors to maintain 6-foot social distancing and hand sanitizer stations are located throughout the museum.  
There is now free admission to the museum for all South Dakota residents. Out-of-state adult visitors pay an $8 admission fee or $6 for out-of-state seniors 60-and-older. The museum is open from 9 a.m.-4:30 p.m. CST Monday through Saturday, and 1-4:30 p.m. CST on Sundays and most holidays. Call 605-773-3458 for more information about exhibits, special events, and upcoming activities. 
About the South Dakota State Historical Society 
The South Dakota State Historical Society is a division of the Department of Education. The State Historical Society, an Affiliate of the Smithsonian Institution since 2013, is headquartered at the South Dakota Cultural Heritage Center in Pierre. The center houses the society's world-class museum, the archives, and the historic preservation, publishing, and administrative/development offices. Call 605-773-3458 or visit www.history.sd.gov for more information. The society also has an archaeology office in Rapid City; call 605-394-1936 for more information.