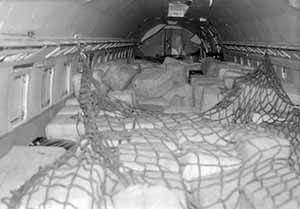 The South Dakota State Historical Society in Pierre recently received items pertaining to the Jan. 20, 1980, "Pot Plane" seizure near Akaska in western Walworth County.  
Timothy Kwasniewski, a former state Division of Criminal Investigation (DCI) agent, collected the various items, which were recently donated by his wife, Pat Kwasniewski.  
The items donated to the museum include two burlap bags that held the marijuana transported in the plane and a commemorative t-shirt of the event with the words "Biggest Bust in South Dakota, Akaska International, 1980" on the front.   
The archives received 34 photographs showing ground, aerial and internal views of the DC-7, along with various news clippings concerning the drug seizure, arrests and trial in 1980. 
 "These materials help us document important events in the history of South Dakota, and we appreciate Mrs. Kwasniewski's contribution to the archives and museum," said Jay Smith, museum director. 
"This is an event in South Dakota history that many people still remember," noted Chelle (SHEL-ee) Somsen, state archivist. "The 'recent history' aspect of this collection makes it a welcome addition to both the museum and archive collections at the Cultural Heritage Center."  
A four-engine DC-7 airplane, which landed on a bluff along the Missouri River on that Super Bowl Sunday, when many people were in front of their televisions, carried approximately 26,000 pounds of baled Columbian marijuana. The street value of the marijuana (in 1980 dollars) was estimated at $18 million.  
Six suspects were charged in connection with the incident. The DC-7 was confiscated by the state and later sold for $60,000, most of which was used to offset court costs in Walworth County.  
If interested in donating materials to the State Historical Society, contact Katy Schmidt, museum curator of collections, at 605-773-6013 or katy.schmidt@state.sd.us, or Matthew T. Reitzel, manuscript and photo archivist, at 605-773-3615 or matthew.reitzel@state.sd.us. 
Both the state museum and archives are located at the Cultural Heritage Center in Pierre. The museum is open Monday through Saturday from 9 a.m.-4:30 p.m. CST and Sundays and most holidays from 1-4:30 p.m. The archives is currently open by appointment only Monday through Friday, 9 a.m.-4:30 p.m. Contact the archives at 605-773-3804. 
About the South Dakota State Historical Society 
The South Dakota State Historical Society is a division of the Department of Education. The State Historical Society, an Affiliate of the Smithsonian Institution since 2013, is headquartered at the South Dakota Cultural Heritage Center in Pierre. The center houses the society's world-class museum, the archives, and the historic preservation, publishing and administrative/development offices. Call (605) 773-3458 or visit www.history.sd.gov for more information. The society also has an archaeology office in Rapid City; call (605) 394-1936 for more information.