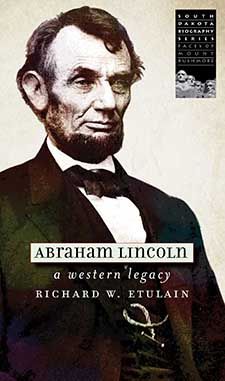 The latest book from the South Dakota Historical Society Press explores how the 16th president shaped the country beyond the Mississippi River. "Abraham Lincoln: A Western Legacy" by Richard W. Etulain is the first book in the Mount Rushmore Subseries of the South Dakota Biography Series highlighting the presidents depicted on the national memorial and other figures connected with its history. 
Remembered as the man who carried the United States through a civil war and emancipated 4 million enslaved Americans, Lincoln has been the subject of nearly 17,000 books. While most chronicle his life and presidency, few go beyond his assassination by John Wilkes Booth in 1865 to look at his legacy in the American West. 
"Lincoln's impact on this region cannot be understated," said Jeanne Ode, acting director of the South Dakota Historical Society Press. "Etulain shows how Lincoln, who had grown up on the frontier, often turned his attention westward after becoming president."  
Etulain provides a concise overview of Lincoln's life while illustrating his role in laying the foundation for the region's modern politics and identity. Through policies such as the Homestead Act and the Pacific Railroad Act as well as key political appointments, Lincoln had a significant impact on the West. 
Etulain also advances Lincoln scholarship by examining the many efforts to memorialize the president in the decades following his assassination. Etulain's original research, including his use of correspondence between local figures such as Sen. Peter Norbeck and historian Doane Robinson, provides unique insight into the discussions that led to Lincoln's inclusion on Mount Rushmore. 
Etulain is an award-winning historian specializing in the history of the American West. After earning his doctorate, he spent nearly 40 years teaching at Idaho State University and the University of New Mexico. He has authored and edited more than 50 volumes, including "Lincoln and Oregon Country Politics in the Civil War Era" and "Lincoln Looks West: From the Mississippi to the Pacific." 
"Abraham Lincoln: A Western Legacy" is available for $14.95, plus shipping and tax and can be ordered directly from the South Dakota Historical Society Press at sdhspress.com or by calling 605-773-6009. Follow the South Dakota Historical Society Press on Facebook (SDHS Press) and Twitter (@sdhspress) for more. 
About the South Dakota State Historical Society 
The South Dakota State Historical Society is a division of the Department of Education. The State Historical Society, an Affiliate of the Smithsonian Institution since 2013, is headquartered at the South Dakota Cultural Heritage Center in Pierre. The center houses the society's world-class museum, the archives, and the historic preservation, publishing, and administrative/development offices. Call 605-773-3458 or visit www.history.sd.gov for more information. The society also has an archaeology office in Rapid City; call 605-394-1936 for more information.