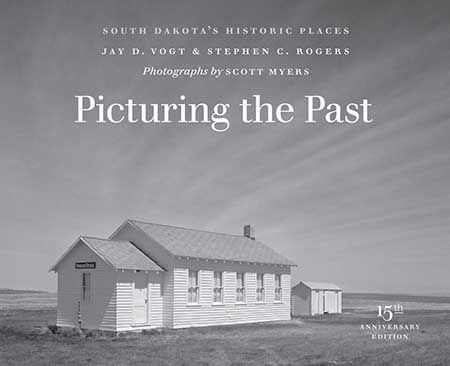 In nearly every South Dakota community, historic houses, government buildings, or commercial blocks stand as icons of our past. A new paperback edition of "Picturing the Past: South Dakota's Historic Places" from the South Dakota State Historical Society celebrates these buildings.  
Authors Jay D. Vogt and Stephen C. Rogers provide context for the structures, which Scott Myers depicts in 78 dramatic black-and-white photographs.  
"Picturing the Past," published in hard cover by the South Dakota Historical Society Press in 2006, is the third volume in the society's Historical Preservation Series. It includes a new afterword by Vogt that reviews the current state of historic preservation and tracks the changes that have occurred in the 15 years since the book's original publication.   
Through his images, Myers "calms the mind and focuses the reader's attention on the austere beauty of South Dakota. The dry climate of the Great Plains creates a special quality of light, and Myers captures its brilliance as it washes over the buildings, articulating them in space," writes a reviewer for "Montana, the Magazine of Western History." "Whether you are an avid reader of Great Plains history, a lover of architecture, or a student of vernacular landscapes and historic preservation, you will find this well-designed book a welcome addition to your library." 
"Picturing the Past" is the winner of an Education Project Award for Excellence in Historic Preservation and an Award of Merit from the American Association for State and Local History.  
Vogt, a South Dakota native, is director of the South Dakota State Historical Society and State Historic Preservation Officer. He is a former president of the National Conference of State Historic Preservation Officers and a presidential appointee on the National Advisory Council on Historic Preservation. Rogers works for the National Park Service and is a past director of the South Dakota State Historic Preservation Office. Myers is a professional photographer who lives in Columbia, Mo.  
"Picturing the Past" is available for $29.95, plus shipping and tax, and can be ordered directly from the South Dakota Historical Society Press at sdhspress.com or by calling 605-773-6009. Follow the South Dakota Historical Society Press on Facebook (SDHS Press) and Twitter (@sdhspress) for more. 
About the South Dakota State Historical Society 
The South Dakota State Historical Society is a division of the Department of Education. The State Historical Society, an Affiliate of the Smithsonian Institution since 2013, is headquartered at the South Dakota Cultural Heritage Center in Pierre. The center houses the society's world-class museum, the archives, and the historic preservation, publishing, and administrative/development offices. Call 605-773-3458 or visit www.history.sd.gov for more information. The society also has an archaeology office in Rapid City; call 605-394-1936 for more information.