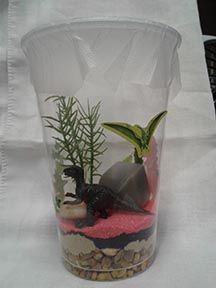 Visitors to the Cultural Heritage Center in Pierre can create their own tropical South Dakota terrarium with sand, small dinosaurs and greenery at Family Fun Saturday from 10-11:30 a.m. CDT on March 14.
All supplies are provided. Children must be accompanied by an adult. There is free admission to the museum gallery during event hours.
In the Mesozoic Era, South Dakota was a land of lush tropical forests, sandy beaches and warm seas. Tyrannosaurus rex and triceratops roamed the forests and fierce mosasaurs ruled the warm seas. Information about Mesozoic South Dakota will be shared by a PowerPoint running on a continuous loop throughout the event in the Education Room.
"Imagine how different the South Dakota landscape was in the Mesozoic Era," said Jay Smith, museum director. "Today we look out for buffalo, deer and antelope as we drive through the state. Not a T-Rex in sight!"
During the Mesozoic Era, the climate in South Dakota was warmer and wetter than it is today. Part of the state was covered by an inland sea and had coastal forest habitat along with broad flood plains and sandy-bottomed stream shores. Lush rain forest vegetation covered much of the Earth's surface. Flowering plants evolved, and a variety of dinosaurs roamed South Dakota. Triceratops was named South Dakota's state fossil in 1988.
The Mesozoic seas teemed with large marine reptiles and prehistoric fish. Mosasaurs, plesiosaurs, and giant sea turtles competed for food with squid-like ammonites and prehistoric sharks. Paddlefish evolved in the late Mesozoic era and still swim in the Missouri River today.
Mosasaurs looked like crocodiles with flippers and could reach 32 feet in length. The stomach contents of one fossil specimen found in South Dakota contained the remains of fish, shark, diving bird, and another mosasaur.
The museum is open from 9 a.m.-4:30 p.m. CDT Monday through Saturday, and 1-4:30 p.m. on Sundays and most holidays. Call 605-773-3458 or visit history.sd.gov for more information about exhibits, special events and upcoming activities.
About the South Dakota State Historical Society
The South Dakota State Historical Society is a division of the Department of Education. The State Historical Society, an Affiliate of the Smithsonian Institution, is headquartered at the South Dakota Cultural Heritage Center in Pierre. The center houses the society's world-class museum, the archives, and the historic preservation, publishing and administrative/development offices. Call (605) 773-3458 or visit www.history.sd.gov for more information. The society also has an archaeology office in Rapid City; call (605) 394-1936 for more information.