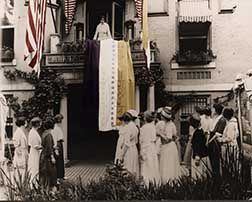 The nationwide celebration of women's suffrage continues at the Cultural Heritage Center in Pierre at 2 p.m. CST on Sunday, March 1, with a presentation by Liz Almlie entitled, "A Movement of Many: Stories of Women's Suffrage in South Dakota."
Almlie has worked for the South Dakota State Historical Society as a historic preservation specialist since 2011. She is presently serving as the state coordinator for the National Votes for Women Trail project of the National Collaborative of Women's History Sites.
Almlie has written an article on stories of place in the South Dakota suffrage movement for a 2020 issue of "South Dakota History," the State Historical Society's quarterly publication. She is posting research findings on the blog site https://historysouthdakota.wordpress.com/womens-suffrage-in-sodak/ and the Facebook page "Women's Suffrage in SoDak."
"We are delighted to continue the celebration of women's suffrage and especially pleased to have Liz make a presentation," said Museum Director Jay Smith. "She has been diligently researching the suffrage movement in South Dakota for the past few years, and she has uncovered a treasure trove of information and stories that few have ever heard before."
There is no fee to attend the program. Since the event will be held on the first Sunday of the month, there will also be free admission to the museum.   
Program attendees are also encouraged to view the museum exhibit, "'The Right is Ours': Women Win the Vote" in the Observation Gallery of the museum. The exhibition will be on display through Nov. 3, 2020.
The museum is open from 9 a.m.-4:30 p.m. CST Monday through Saturday, and 1-4:30 p.m. CST on Sundays and most holidays. Call 605-773-3458 for more information about exhibits, special events, and upcoming activities.
Editor's Note caption information: Alice Paul, a national suffrage movement leader from New Jersey, unveils the ratification banner at the National Women's Party headquarters in Washington, D.C., after the 19th Amendment was ratified in 1920. (Photo courtesy Smithsonian Institution)
About the South Dakota State Historical Society
The South Dakota State Historical Society is a division of the Department of Education. The State Historical Society, an Affiliate of the Smithsonian Institution, is headquartered at the South Dakota Cultural Heritage Center in Pierre. The center houses the society's world-class museum, the archives, and the historic preservation, publishing, and administrative/development offices. Call 605-773-3458 or visit www.history.sd.gov for more information. The society also has an archaeology office in Rapid City; call 605-394-1936 for more information.