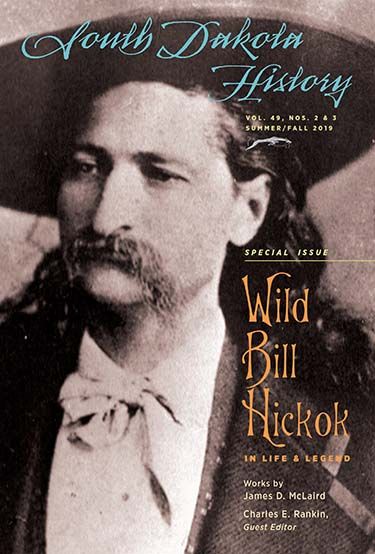 A special issue of "South Dakota History," the quarterly journal of the South Dakota State Historical Society, highlights the legacy of James Butler "Wild Bill" Hickok.
Titled "Wild Bill Hickok in Life and Legend," the issue features the work of James D. McLaird, longtime professor of history at Dakota Wesleyan University in Mitchell. At the time of his death in 2017, McLaird was finishing work on a book on Hickok, who was murdered in a Deadwood saloon in 1876. Guest editor Charles E. Rankin, former director of the University of Oklahoma Press, selected three pieces from McLaird's partially completed manuscript that provide new perspectives on the life of the western hero.
In "Wild Bill Hickok, Man and Myth," McLaird explores the development of Hickok's legend before and after his death in Deadwood. Hickok at various times has been remembered as a Civil War hero, gunfighter, marshal, and frontiersman, and the circumstances of his murder have become a prominent part of western lore. McLaird explores the fact and fiction behind these tales to illustrate how Hickok's contemporaries and early historians contributed to them.
In "Origins of a Legend: Wild Bill's Gunfight at Rock Creek Station," McLaird examines Hickok's role in an infamous shootout along the Oregon Trail in Nebraska. He reconstructs events and compares various versions of the confrontation that led to the death of David C. McCanles and his two companions and first brought Wild Bill national recognition.
"The Legendary Marshal of Abilene" focuses on Hickok's eight months as marshal of Abilene, Kan. Hickok's reputation as a sure-shot gunman and one of the frontier's premier lawmen arose from this brief period. A closer examination of his time as marshal, including his personal life, challenges these perspectives and illustrates Hickok's complex personality.
Brian W. Dippie provides a tribute to McLaird, recalling his longtime friend as a thorough researcher whose passion for history led him to study the lives, myths, and memories of both Hickok and Martha Canary (a.k.a. Calamity Jane). Dippie is a professor emeritus of history at the University of Victoria, British Columbia, and author of numerous articles and books on the American West.
"South Dakota History" is a benefit of membership in the South Dakota State Historical Society. For information on membership, call 605-773-6000. To purchase individual issues, call 605-773-6009.
About the South Dakota State Historical Society
The South Dakota State Historical Society is a division of the Department of Education. The State Historical Society, an Affiliate of the Smithsonian Institution, is headquartered at the South Dakota Cultural Heritage Center in Pierre. The center houses the society's world-class museum, the archives, and the historic preservation, publishing and administrative/development offices. Call 605-773-3458 or visit www.history.sd.gov for more information. The society also has an archaeology office in Rapid City; call 605-394-1936 for more information.