News
Learn about America's first Public Enemy No. 1 at Cultural Heritage Center program
Posted on 07/31/2019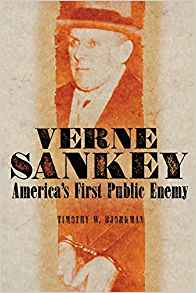 On Tuesday, Aug. 13, Tim Bjorkman will tell the story of a good man gone bad when the History and Heritage Book Club meets at 7 p.m. CDT, at the Cultural Heritage Center in Pierre. Bjorkman, a Canistota resident, is the author of "Verne Sankey: America's First Public Enemy."
"Verne Sankey's name is almost lost to history. But in 1934, as authorities delivered John Dillinger to an Indiana jail, the United States Justice Department announced that the Federal Bureau of Investigation had just captured America's Public Enemy No. 1. The Justice Department was not referring to Dillinger, but to Sankey," said Catherine Forsch, president of the South Dakota Historical Society Foundation.
The foundation is the nonprofit fundraising partner of the South Dakota State Historical Society and the sponsor of the History and Heritage Book Club.
Sankey was born on July 18, 1891, in Avoca, Iowa. His family moved to Wilmot in northeastern South Dakota when Sankey was a boy. As an adult, Sankey and his bride moved to Melville, Saskatchewan, Canada, in 1914 to work for the railroad. The family returned to South Dakota in 1931 and bought a farm southwest of Gann Valley. By then, Sankey had become a gambler, bootlegger and bank robber. In 1933, he kidnapped a wealthy Denver man and held him for ransom.
Bjorkman became interested in Sankey when he was a child, listening to two barbers talk about the outlaw. His interest was rekindled when, as an adult, he stopped in Gann Valley and read about Sankey in old editions of the town's newspaper.
"Sankey was the first – and actually the only – Public Enemy No. 1 ever identified by the United States Department of Justice," Bjorkman said. "That claim – first made in this book – has never been challenged and corrects oversights and misstatements on the topic of public enemies which entirely overlooked Sankey."
Bjorkman served for a decade as a judge of South Dakota's First Judicial Circuit, comprising 14 southeastern South Dakota counties. He graduated from the University of South Dakota in Vermillion in 1978 and from its law school in 1982. He practiced law in Bridgewater for 24 years. Bjorkman was elected as judge of the First Judicial Circuit in 2006 and re-elected in 2014. Now retired from the bench, he writes, gardens and, together with his wife, travels and relishes time with his children and grandchildren.
Copies of "Verne Sankey: America's First Public Enemy" are sold at the Heritage Stores at the Cultural Heritage Center and the Capitol, online at www.sdhsf.org or by calling 605-773-6346.
People can find out how to join the program at locations other than the Cultural Heritage Center by calling 605-773-6006.
About the South Dakota State Historical Society
The South Dakota State Historical Society is a division of the Department of Education. The State Historical Society, an Affiliate of the Smithsonian Institution, is headquartered at the South Dakota Cultural Heritage Center in Pierre. The center houses the society's world-class museum, the archives, and the historic preservation, publishing and administrative/development offices. Call 605-773-3458 or visit www.history.sd.gov for more information. The society also has an archaeology office in Rapid City; call 605-394-1936 for more information.
About the South Dakota Historical Society Foundation
The South Dakota Historical Society Foundation is a private charitable nonprofit that seeks funding to assist the South Dakota State Historical Society in programming and projects to preserve South Dakota's history and heritage for future generations.