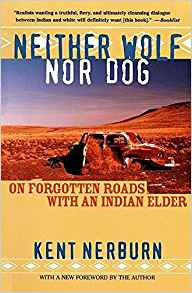 Nerburn will discuss his book "Neither Wolf nor Dog," answer questions and sign copies in a program that begins at 7 p.m. CDT on Wednesday, June 12, at the Capitol Lake Visitors Center. The program is free, and everyone is welcome to attend. Copies of the book will be available for sale at the event.
"Nerburn's road trip through the western Dakotas with two American Indian men resulted in the book 'Neither Wolf nor Dog.' The book is a classic among those who want to learn more about American Indian culture. Nerburn's talk in Pierre is an opportunity to meet the author and ask questions about the book," said Catherine Forsch, president of the South Dakota Historical Society Foundation. The foundation and local book clubs are hosting Nerburn's appearance in Pierre.
One Book South Dakota is a program of the South Dakota Humanities Council to encourage South Dakotans to read and discuss the same title. Nerburn's appearance in Pierre is part of a statewide tour that is taking place June 4-15.
"Neither Wolf nor Dog" tells a story of three men – two American Indians (Grover and Dan) and one white (Nerburn) – who learn from and about each other during a road trip through tribal landscapes. Much of the narrative is based on Nerburn's conversations with an American Indian elder, Dan, who asked Nerburn to help him tell his story. Nerburn has stated that the book is about acknowledging the differences between the two cultures while seeking understanding between them.
The book won the Minnesota Book Award and was made into a feature film in 2016.
Nerburn is the author of 14 books on spiritual values and American Indian themes. Born and raised near Minneapolis, Nerburn earned a bachelor's degree in American Studies at the University of Minnesota. He went on to study humanities and religious studies at Stanford University before earning a doctorate in religious studies and art at the University of California at Berkeley. After spending 25 years in northern Minnesota, Nerburn and his wife now live near Portland, Ore.
About the South Dakota State Historical Society
The South Dakota State Historical Society is a division of the Department of Education. The State Historical Society, an Affiliate of the Smithsonian Institution, is headquartered at the South Dakota Cultural Heritage Center in Pierre. The center houses the society's world-class museum, the archives, and the historic preservation, publishing and administrative/development offices. Call 605-773-3458 or visit www.history.sd.gov for more information. The society also has an archaeology office in Rapid City; call 605-394-1936 for more information.
About the South Dakota Historical Society Foundation
The South Dakota Historical Society Foundation is a private charitable nonprofit that seeks funding to assist the South Dakota State Historical Society in programming and projects to preserve South Dakota's history and heritage for future generations.