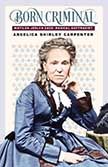 A book the South Dakota State Historical Society released in September 2018 has been named a finalist for three national awards.
Nearly forgotten today, Matilda Joslyn Gage is unknown to most readers, but she, along with Elizabeth Cady Stanton and Susan B. Anthony, changed the course of history. In "Born Criminal: Matilda Joslyn Gage, Radical Suffragist," Angelica Shirley Carpenter examines her subject's life, illuminating Gage's rise and fall in the woman suffrage movement she helped build.
In March, both the Independent Book Publishers Association Benjamin Franklin Award and Foreword INDIES Book of the Year Awards named "Born Criminal" as a finalist in Biography, Women's Studies and Teen Nonfiction categories. The book was also a finalist on the American Library Association's Amelia Bloomer list.
"An excellent book about a woman who was an abolitionist, suffragist, freethinker and radical," wrote one reviewer. "No wonder she was written out of women's history. I wish I had known about this remarkable woman years ago. I highly recommend this very readable book."
"The popularity of 'Born Criminal' with reviewers and readers shows the importance of telling these women's stories," says Nancy Tystad Koupal, director of the South Dakota Historical Society Press. "The honor is richly deserved for work done by its author, Angelica Shirley Carpenter."
"Born Criminal: Matilda Joslyn Gage, Radical Suffragist" is appropriate for teen and adult readers and is available for $19.95 plus shipping and tax. It can be purchased from most booksellers or ordered directly from the South Dakota Historical Society Press. Visit sdhspress.com or call 605-773-6009. For more information email info@sdhspress.com.
About the South Dakota State Historical Society
The South Dakota State Historical Society is a division of the Department of Education. The State Historical Society, an Affiliate of the Smithsonian Institution, is headquartered at the South Dakota Cultural Heritage Center in Pierre. The center houses the society's world-class museum, the archives, and the historic preservation, publishing and administrative/development offices. Call 605-773-3458 or visit www.history.sd.gov for more information. The society also has an archaeology office in Rapid City; call 605-394-1936 for more information.