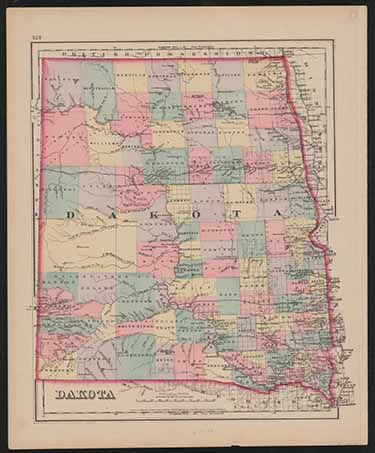 Dakota Territory maps have been added to the growing online database of historical content available from the South Dakota State Historical Society in Pierre.
More than 600 maps were recently added to the South Dakota Digital Archives. The State Historical Society-Archives received grant funding from the Deadwood Historic Preservation Commission to digitize and catalog territorial maps in the State Archives collection. The maps are primarily of Dakota Territory, but some date from shortly after South Dakota became a state in 1889. There are maps of American Indian reservations, forts, old trails and military expeditions.
Also included are early county maps, some highway and road maps, railroad maps and plats of various South Dakota towns. A couple of the maps are written in other languages, including French and German.
To view the maps, visit the South Dakota Digital Archives website at https://sddigitalarchives.contentdm.oclc.org/digital.
The maps join a growing online collection, including land survey records, manuscripts, government records and photographs.
The digitization project is funded by private contributions, and donations can be made to the South Dakota Historical Society Foundation by calling 605-773-6003 and earmarking them for digitization.
For more information, contact the State Historical Society-Archives at 605-773-3804 or visit history.sd.gov/archives. State Archives hours at the Cultural Heritage Center are 9 a.m.-4:30 p.m. CST Monday-Friday and the first Saturday of most months.
Suggested cutline: This map of the Dakota territory was published in 1876 by George W. Colton and Charles B. Colton with the G.W. & C.B. Colton Company of New York. (Courtesy South Dakota State Historical Society-Archives)
About the South Dakota State Historical Society
The South Dakota State Historical Society is a division of the Department of Education. The State Historical Society, an Affiliate of the Smithsonian Institution, is headquartered at the South Dakota Cultural Heritage Center in Pierre. The center houses the society's world-class museum, the archives, and the historic preservation, publishing and administrative/development offices. Call 605-773-3458 or visit www.history.sd.gov for more information. The society also has an archaeology office in Rapid City; call 605-394-1936 for more information.