September 2021-The Cowboy Turned Attorney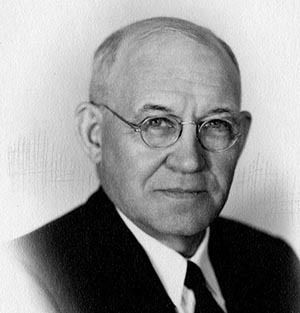 The Cowboy Turned Attorney
Changing careers sometimes requires a change of attire.
George Philip traded in the chaps he wore as a cowboy for the business suit worn by a lawyer. 
"What amazed me about his life are the incredible moments of serendipity. How could he be in perfect health and fake tuberculosis? How could he ride a train and meet Walt Chrysler?" said his granddaughter Cathie Draine of Rapid City. 
Philip was born in Fort Augustus, Scotland, on July 16, 1880. He entered a 5-year apprenticeship as a marine engineer on his 16th birthday. Deciding this career path was not for him, he devised a plan to get out of his apprenticeship by acting act as though he had  tuberculosis. He developed a hacking cough while maintaining to others that he was in perfect health. During a medical exam, Philip insisted that nothing was the matter. The examining physician suggested that a leave of absence, perhaps in the western states of America, might be beneficial. Philip sailed to America in 1897 and went to the ranch of his uncle Alex Philip in Hays, Kan. George Philip left after two years and went to work as a lumberjack near Grant, Colo. While there he received a letter from an uncle he had met only once before, James "Scotty" Philip, inviting him to come work for him. While traveling from Colorado to Pierre by train, George Philip met Walter Chrysler Sr., the founder and namesake of American Chrysler Corporation, and became friends with him.
"I got the impression they kept in contact with each other," Draine said.  
After arriving in Pierre and crossing the Missouri River into Fort Pierre, George Philip encountered his uncle in Fort Pierre. Scotty Philip dabbled in banking, real estate and politics, but is best known as a cattle rancher in the open ranges of western South Dakota and is often credited for helping save the American bison from extinction.
George worked for his uncle as a cowboy until 1903, when he turned in his saddle and entered law school. Scotty Philip had given his nephew a herd of cattle to get started in the cattle business, but George was fleeced out of his herd. He resolved to go to law school so he could learn to write a contract and never again be duped by a clever operator. 
Philip graduated from the University of Michigan law school and was admitted to the bar in South Dakota in 1906. He began a partnership with law school classmate Alvin Waggoner, with Philip having an office in Fort Pierre and Waggoner in Philip, a town named for Scotty Philip.  
The law firm built up an extensive practice, according to newspaper accounts. 
In 1917, Philip moved to Rapid City, in part, according to newspaper accounts, because the firm of Philip & Waggoner had been looking to open an office in a city larger than Fort Pierre. 
 
"Philip is one of the oldest attorneys in the western part of the state and will no doubt meet with every success in his new location," stated the Kadoka Press and Kadoka Reporter.
Philip was assistant U.S. attorney for South Dakota at the time, which newspapers believed played a role in the move to Rapid City. He later served as U.S. Attorney for South Dakota from 1934 to 1947. Philip also became a partner at different times in several Rapid City law firms.
A Democrat, Philip ran unsuccessfully for Stanley County state's attorney 1908. In 1922, he ran against William Williamson for U.S. Congress from South Dakota's third district, which included all counties in western South Dakota.
 "I have known and been intimately association with the Hon. George Philip of Rapid City for the past twenty years," read a paid political advertisement signed J.M. Walsh. "Mr. Philip is honest, fearless and constructive. He has lived in his district during this time and knows its needs. He is constructive enough to urge its needs and fearless enough to carry them out. He knows no party, no race, no creed in doing what is right in his community in private life. He will know none in political life," 
Philip lost by 3,200 votes.
Philip was close friends and adviser to Tom Berry, a fellow Democrat who served as South Dakota's governor from 1933-1937. 
 "Berry appreciated George Philip's friendship, personal judgement, commitment to the Democratic Party and the fact that he could swap authentic cowboy stories equal to his own," Paul Higbee wrote in "South Dakota's Cowboy Governor Tom Berry."
Philip was a sought-after public speaker, speaking at high school graduations, South Dakota Stock Growers Association conventions, Old Settlers Association picnics and at other venues.
"George Philip's speech was forceful, and to the point, dwelling entirely on the old timers, giving each and every one something to think about, and at the same time drawing us nearer together in spirit the same as when the Cheyenne ranch looked upon the people along the Bad River as their neighbors – distance made no difference," stated a review of Philip's speech to the Old Settler Association reunion in Midland in 1920.  
He was one of the best-known representatives of masonry in South Dakota and was active in civic affairs, serving as a Rapid City city commissioner, on the Mount Rushmore National Memorial commission and society, and on other boards.
Philip began what is perhaps his greatest legacy to the state and future generation when On Christmas Day 1936, he began writing lengthy letters to his three children about his time as a cowboy in the last days of the open range. After he finished writing the last letter on May 20, 1941, the letters were typed, bundled together, subheadings added and a set given to each of his children. Draine later edited them and the letters were published by the South Dakota Historical Society Press in the book "Cowboy Life." 
Philip died at home in Rapid City at age 68 on March 13, 1948.
"With one hand in his back hip pocket and his other hand pointed at the accused or members of the jury, nobody who saw him in action in the courtroom ever forgot him," stated his obituary in the March 15, 1948, Rapid City Journal.
This moment in South Dakota history is provided by the South Dakota Historical Society Foundation, the nonprofit fundraising partner of the South Dakota State Historical Society at the Cultural Heritage Center in Pierre. Find us on the web at www.sdhsf.org. Contact us at info@sdhsf.org to submit a story idea