September 2017-A South Dakota Senator's Role in Labor Day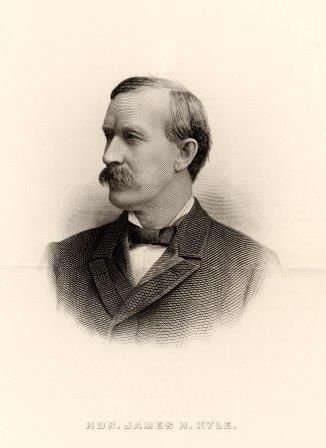 Labor Day is a time to fire up the grill, wave summer goodbye and celebrate American workers.
A South Dakota senator played a major role in establishing the federal holiday.
On Aug. 28, 1893, Sen. James Kyle of South Dakota introduced S. 730 to the U.S. Senate to make Labor Day a legal national holiday on the first Monday of September each year. President Grover Cleveland signed the bill on June 28, 1894.
By then, a fall holiday called Labor Day was already being observed. Beginning in the late 19th century, parades, picnics and other celebrations took place to support labor issues such as shorter hours, better pay and safer working conditions, according to the U.S. Department of Labor.
On Sept. 5, 1882, a pivotal event occurred in New York City when an estimated 10,000 people marched in what became the first Labor Day parade in U.S. history. Other cities began to have parades to show the public the strength of the trade and labor organizations, followed by a festival for the workers and their friends and families. States began making Labor Day an official public holiday.
In introducing the legislation, Kyle said that labor organizations were united in asking that the first Monday of September be set apart as a holiday in order to make the observance uniform. This would result in workers enjoying vacation privileges on the same day, according to the Dec. 1, 1965, issue of "The Wi-Iyohi," a monthly bulletin published by the South Dakota State Historical Society.
Prior to serving as a U.S. Senator, Kyle served as pastor at the Congregational Church in Aberdeen and as finance officer for Yankton College. A speech he delivered at a Fourth of July celebration in Aberdeen in 1890 vaulted him to public attention.
According to "The Wi-Iyohi," Kyle spoke in favor of women's suffrage and prohibition, and took a swing at big corporations, banks and railroads. This speech resulted in Independents nominating Kyle for election to the state senate. He won and headed to Pierre in January 1891. At that time, the Legislature chose South Dakota's U.S. senators, and the 36-year old Kyle was chosen on Feb. 16, 1891, to succeed Gideon Moody.
He entered the U.S. Senate as an independent and Populist and aligned with the Democratic caucus in the U.S. Senate.
Kyle was re-elected in 1897 as an independent. Republican legislators supported him, and he aligned with the Republican caucus in the U.S. Senate for his second term.
"Analyzed it is evident that Mr. Kyle had one quality that was his best asset. The belief of both his political friends and his political enemies that he was honest, non-partisan and would represent the people of South Dakota regardless of their political faith," said South Dakota Gov. M.Q. Sharpe during a Labor Day radio address in 1946.
Kyle attracted nationwide attention as senator.
"Of the new men whose entrance to congress was a surprise to the country I considered Senator James Henderson Kyle of South Dakota among the clearest headed … As a senator of the United States he is quiet, cautious and level headed," stated an article in the Wichita Daily Eagle on Feb. 23, 1894.
Kyle's name again appeared in newspapers nationwide in the spring and summer of 1894 when lobbyist C.W. Buttz, originally from North Dakota, was accused of attempting to bribe Kyle and Sen. Eppa Hunton of Virginia to vote against a tariff bill. A senatorial investigating committee found Buttz guilty of offering a bribe, despite his denial, and exonerated the senators from all blame.
Born in Ohio, Kyle moved to Ipswich in 1885 and then to Aberdeen in 1889. He remembered Aberdeen as a U.S. senator, securing funding for a Carnegie Library in that city. Through his efforts an office of the internal revenue collector for the Dakotas was located in Aberdeen and he was instrumental in having Aberdeen designated as a place for holding federal court, according to the July 15, 1901, Dakota Farmers' Leader.
Kyle died on July 1, 1901, in Aberdeen at the age of 47. He is buried in Riverside Cemetery in Aberdeen.
"Labor never had a better friend than Senator Kyle," said his successor as senator, Alfred Kittredge, when memorializing Kyle, "and no one better understood its needs or extended a more sympathetic and helping hand. As a boy he worked upon the farm to aid in securing the education he so eagerly sought and highly prized, as a man and Senator he did not forget the labor of his youth."
Kyle's name lives on in the South Dakota town named for him, and in the holiday honoring the contributions that workers have made to the strength, prosperity and well-being of this country.
This moment in South Dakota history is provided by the South Dakota Historical Society Foundation, the nonprofit fundraising partner of the South Dakota State Historical Society at the Cultural Heritage Center in Pierre. Find us on the web at www.sdhsf.org. Contact us at info@sdhsf.org to submit a story idea.