September 2012- The Saga of Hugh Glass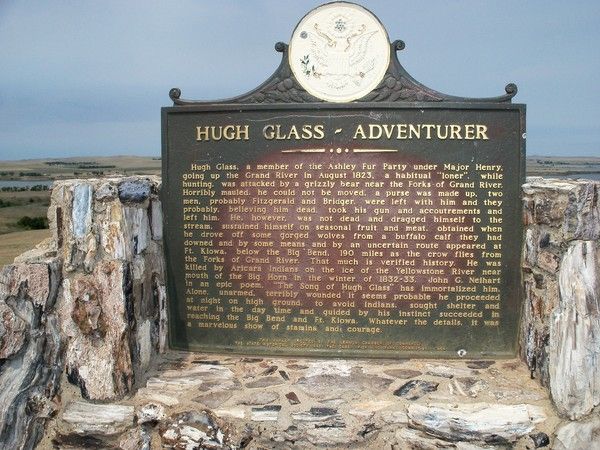 It is difficult to imagine a man dragging himself a mile through brush, across gullies and along the river breaks to safety. Hugh Glass not only dragged himself a mile, but hundreds. With each yard he put behind him, he came closer to civilization and immortality.
An historic marker that overlooks Shadehill Reservoir in northwestern South Dakota tells the saga of Glass.
Glass was a mountain man who was part of a fur trapping expedition led by Andrew Henry in 1823. The expedition was bound for the mouth of the Yellowstone River when it passed south of what is now Lemmon that fall. While hunting alone one morning, Glass was attacked by a female grizzly bear. He survived and made his way to Fort Kiowa, about 200 miles away.
Glass' bout with a bear became well-known, and many fictional accounts are based on Glass' story. According to Lord Grizzly by Frederick Manfred, Glass regained consciousness after the grizzly bear's attack to the grim reality of being alone and unarmed in hostile Indian territory. His leg was broken; his scalp was almost torn off; his ribs were exposed where the flesh on his back had been ripped away; and his wounds were festering.
Glass set his broken leg and began crawling toward the Cheyenne River, about 100 miles away. His anger at being abandoned by his comrades and his desire to stay alive drove Glass as he crawled by night and rested by day.
Once he reached the Cheyenne River, Glass fashioned a dugout boat out of a cottonwood and used it to float down the Missouri River until he reached Fort Kiowa, about four miles north of present-day Chamberlain. The desire for revenge drove him on, to a new fur trading post on the Yellowstone and Big Horn rivers. There he found Jim Bridger, one of the men he believed had left him for dead. He confronted Bridger – and forgave him. Bridger lived to become one of the foremost mountain men, trappers, scouts and guides in the Western United States.
Revenge was still driving Glass, though. He set out to find John Fitzgerald, the other man he believed to have abandoned him. Found Fitzgerald he did – and let him go free.
The monument to Glass is situated off an unpaved road on the south side of Shadehill Reservoir. To get to the marker from Lemmon, go south on SD Hwy 73 about 13 miles and turn west onto Hugh Glass road. An exhibit at the Grand River Museum in Lemmon also tells about one of the greatest survivor stories in American history. The Museum at the Cultural Heritage Center in Pierre contains an exhibit about the fur trade.
This moment in South Dakota history is provided by the South Dakota Historical Society Foundation, the nonprofit fundraising partner of the South Dakota State Historical Society. Find us on the web at wwww.sdhsf.org.