October 2020-The Friendship between Arthur C Mellette and Samuel Elrod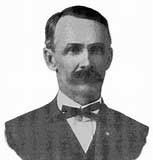 South Dakota might have had a different fifth governor if not for its first governor. 
In 1882, Samuel Elrod of Indiana was looking for a place to start his law practice after earning his law degree from Asbury College in Greencastle, Ind., now known as DePauw University. 
He wrote Arthur C. Mellette, a member of the same college fraternity and also a native of Indiana, about the opportunities for a young attorney in Dakota Territory. Mellette, his wife Maggie and their four sons  had arrived in Springfield, Dakota Territory, in 1878, seeking a better climate for Maggie's health. Mellette served as registrar of the United States Land Office until it was moved to Watertown in 1880. The Mellette family also moved to Watertown, where Mellette soon became a prosperous attorney and leading citizen.
Mellette encouraged Elrod to come to Dakota Territory and invited him to come to Watertown and stay with the Mellettes.
Elrod arrived in Watertown on July 2, 1882, according to John Timm of Sioux Falls, who has written about the Mellettes and portrayed Mellette in living history re-enactments. 
Mellette met Elrod at the train depot, and they spent the afternoon getting acquainted.
Two days later, the nearby town of Clark celebrated the arrival of the first passenger train to that community as well as the first Independence Day of the town's existence. One of the speakers at the festivities was Elrod, who was substituting for Mellette. 
Elrod decided to establish a law practice in Clark. 
According to a manuscript written by Maggie Mellette, the Mellettes received a letter from Elrod saying he was not well. 
"As it was his first winter in Dakota, we thought him homesick, so we sent for him to come over to spend a few days with us. Each day he grew worse and the doctor pronounced it typhoid fever. A nurse was not to be had and there was not a house in town to which he could be sent. Duty was plain, the sick man must be cared for," Maggie wrote. 
To safeguard her own health, Maggie took a train back to Indiana for a visit. 
"Mr. Mellette was installed as nurse. In a week a telegram brought Mr. Elrod's father and together they brought the sick man back to life," Maggie wrote.
Elrod's father took him back to Indiana, where he made a complete recovery, according to Timm. There, several law firms in Indianapolis invited Elrod to join them, but he declined them all in favor of returning to Clark. Before leaving Indiana, Elrod proposed marriage to Mary Ellen Masten and she accepted. Elrod then left for Dakota Territory, but returned to Indiana in the fall of 1884 and married Mary Ellen on Nov. 11, 1884. They returned to Clark to begin their married life. They had two children: a daughter, Barbara, and a son, Arthur Mellette Elrod.
"Elrod always credited Mellette with saving his life. He named his son after Mellette," Timm said.
Mellette went on to be appointed the last governor of Dakota Territory and was elected the first governor of South Dakota, in office from 1889 to 1893. He died on May 25, 1896. 
Elrod was elected South Dakota's fifth governor, serving from 1905-1907. During his term as governor, Elrod initiated construction of the Capitol building in Pierre and acquired land in Huron to serve as the permanent fairgrounds for the South Dakota State Fair. He adopted more aggressive railroad regulations, enacted reforms at the state penitentiary and limited state expenditures. 
Elrod and members of the Mellette family maintained contact with each other after Arthur's death. 
The South Dakota State Historical Society – State Archives contains correspondence Elrod wrote to members of the Mellette family. In a letter dated Oct. 24, 1926, Elrod updated Maggie Mellette about his family. Daughter Barbara was married and living in Vermillion. Son Arthur saw service in France during World War I and was diagnosed with tuberculosis of the spine after returning home. Arthur joined his father in practicing law in Clark. Elrod's wife, Mary Ellen, was not in good health.
"She often talks about you and your kindnesses to us," Elrod wrote.
Other letters tell of meeting the Mellettes' son, Charley, and Charley's daughter, at the 1928 Republican National Convention in Kansas City, Mo., and expressed sorrow at the death of the youngest Mellette son, Joshua Theodore Richard, nicknamed Dick, in 1929. 
"I have never forgotten you and yours," Elrod stated in one letter to Maggie.
Elrod died on July 13, 1935. He was remembered as one of the most modest, most popular men in South Dakota.
This moment in South Dakota history is provided by the South Dakota Historical Society Foundation, the nonprofit fundraising partner of the South Dakota State Historical Society at the Cultural Heritage Center in Pierre. Find us on the web at www.sdhsf.org. Contact us at info@sdhsf.org to submit a story idea.