October 2015 - Buffalo Bill in South Dakota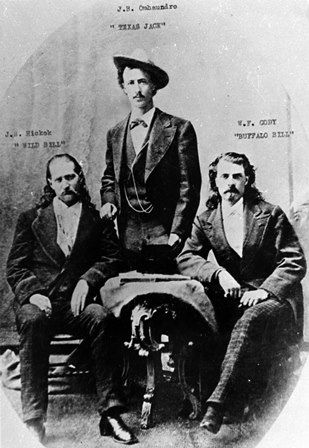 Buffalo Bill came. He was seen by thousands. He conquered their hearts.
"The Wild West Show and Congress of Rough Riders of the World has come and gone and left impressions which time only will efface," read an article in the Daily Huronite on Sept. 6, 1899. "The show is interesting, historically instructive, intensely thrilling and immeasurably pleasing."
William Frederick Cody (1846-1917) was, among other things, an Army scout, buffalo hunter, expert marksman, town founder, actor and hero of highly sensationalized dime novels. The word "showman" may have best defined his life, however.
Buffalo Bill's Wild West amazed audiences for more than 30 years as it traveled in the United States and Europe. Cody's goal was to introduce the Old West to the rest of the world. Cody brought his large touring company to South Dakota in September 1899, performing at Watertown, Huron, Aberdeen, Yankton, Mitchell and Sioux Falls. By then, Cody was one of the best-known persons of his time, according to Steve Friesen in "Buffalo Bill: Scout, Showman, Visionary." Cody's show had previously visited Sioux Falls, and would return to South Dakota in 1909, 1912 and 1914.
Crowds would have been dazzled by feats of marksmanship, demonstrations of skills by international horsemen and horsewomen, spectacles of cowboy fun such as roping and riding, a tableau of Native American life, a Pony Express relay race and an "attack" on a stagecoach.
And it wasn't just any stagecoach wheeling at full speed around an arena. It was the Deadwood Stage.
The Deadwood Stage and touring in South Dakota were not Cody's only connections to the state.
When driving a wagon filled with freight from Leavenworth, Kansas, to Salt Lake City, Utah, an 11-year-old Cody was bullied by another teamster. James Butler "Wild Bill" Hickok came to Cody's aid.
In 1872, Cody watched himself being portrayed in New York's Bowery Theatre by a professional actor. Cody thought he could play the part of Buffalo Bill better than an actor and formed Buffalo Bill's Combination acting troop. Hickok joined the acting troop for its 1873-1874 season, then left the show and returned to the West. When Hickok was shot in the back of the head in Deadwood in 1876, Cody wrote, "Thus ended the career of a lifelong friend of mine who, in spite of his many faults, was a noble man, ever brave and generous hearted."
Captain Jack Crawford was also a member of the acting troop. Crawford was part of an expedition that journeyed into the Black Hills in 1875. His letters telling of his experiences in the Black Hills were sent to the Omaha Daily Bee, and are contained in "Ho! For the Black Hills," edited by Paul Hedren and published by the South Dakota Historical Society Press.
Cody met another person destined to become a Black Hills legend when he met Calamity Jane in 1874, according to James D. McLaird's "Calamity Jane: The Woman and the Legend." Cody's and Calamity Jane's paths would cross over the years, but she never toured with Buffalo Bill's Wild West, according to both McLaird and Friesen.
In 1885, learning that sharpshooter Annie Oakley was now performing with Buffalo Bill's Wild West, Sitting Bull agreed to join the troop. The Lakota leader would ride slowly and in a dignified manner around the arena. Sitting Bull left the company after four months.
In late 1890, Cody was asked to go to the Standing Rock Reservation and take Sitting Bull into custody. He proceeded toward Sitting Bull's home but stopped after a message from President Benjamin Harrison asked him not to perform the task. Sitting Bull was soon dead, shot and killed when Lakota police officers went to Sitting Bull's home to arrest him.
Cody met and had his picture taken with other Lakota chiefs, including Red Cloud and American Horse. He employed Lakota in Buffalo Bill's Wild West and treated them honorably, according to Friesen. Upon notice of Buffalo Bill's death, the Lakota assembled in council at Pine Ridge and sent a telegram that read, in part, "The Oglalas had found in Buffalo Bill a warm and lasting friend."
Cody launched a film company in 1913 with the idea of creating a series of historical moving pictures, starting with the Indian Wars. The movie was filmed on locations on the Pine Ridge Reservation and used real soldiers and American Indians from the reservation. The public showed little interest in the film, and only a few film fragments and photographs taken during the filming remain of the movie The Indians Wars. Cody's fame, however, lives on in the hearts and minds of fans of the frontier West.
This moment in South Dakota history is provided by the South Dakota Historical Society Foundation, the nonprofit fundraising partner of the South Dakota State Historical Society at the Cultural Heritage Center in Pierre. Find us on the web at www.sdhsf.org. Contact us at info@sdhsf.org to submit a story idea.