October 2012- The Sioux Horse Effigy and Missionary Mary Collins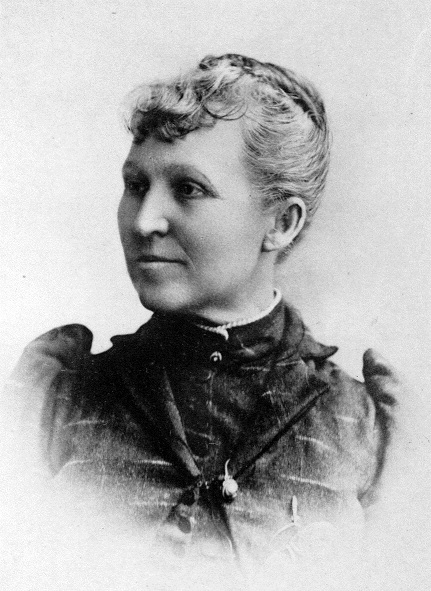 Slender as a whippet, the Sioux Horse Effigy is one of the most recognizable and cherished artifacts in the South Dakota State Historical Society's Museum at the Cultural Heritage Center in Pierre. The effigy is the logo of the SDSHS.
Most horse dance sticks carved by the Lakota are of the front half of a horse on a stick that could be carried in a dance. The Sioux Horse Effigy is considered a masterpiece of American Indian sculpture because it is the complete figure of a horse. Carved out of wood, the 3-foot-long dance stick is enhanced by a mane and tail of real horsehair, with reins and a bridle made of leather.
It is believed that the Sioux Horse Effigy was carved by a warrior in the late 1800s to honor a brave horse that was injured or killed in battle. The sides of the effigy are riddled with holes that suggest bullet wounds, with red paint suggesting blood seeming to seep from the wounds. Its ears are slanted backward, symbolizing fear and pain. The horse sculpture's elongated body and forward leaping motion suggest a leap from life to death.
The Sioux Horse Effigy was collected by Mary Collins, a missionary to the Lakota.
Collins was born in 1846 in Illinois and grew up in Keokuk, Iowa. She received a Master of Arts degree from Ripon College in Wisconsin. After three years of teaching in Keokuk, she decided to become a Congregational missionary and was sent to Dakota Territory to be a missionary to the Lakota.
She arrived at Oahe Mission, located about 12 miles north of what is now Pierre, on Nov. 10, 1875. Ten years later, Collins moved to the Little Eagle Station on the Grand River, located about 20 miles west of Mobridge. Her home made of logs was used for both school and church.
Collins learned the Lakota language and ways. Her knowledge of medicine resulted in her becoming known as a "medicine woman" and gave her a status that she might not otherwise have had. Collins became friends with Sitting Bull and tried to convince the Lakota to give up the Ghost Dance. She possessed a sense of humor and was a practical woman. She taught American Indians how to live well in this present life, how to serve God, how to build homes and how to become self-supporting.
"I had dedicated my life to this work little knowing how much of hard physical labor and drudgery were required of a missionary in our own land," Collins wrote. "I had been in school all my life either as a student or a teacher, so that I was not very well fitted for hardships, and had I not felt that everything I did was for the uplift of the Indians I could not have held out."
Nonetheless, she described her years to service to the American Indians as years of delight.
Collins retired from the ministry in 1910 and moved back to Keokuk. There, she made the leap from life into death on May 25, 1920. Many of her correspondences, including her autobiography, are contained in the SDSHS Archives.
This moment in South Dakota history is provided by the South Dakota Historical Society Foundation, the nonprofit fundraising partner of the South Dakota State Historical Society.