March 2019-The Saga of William Gay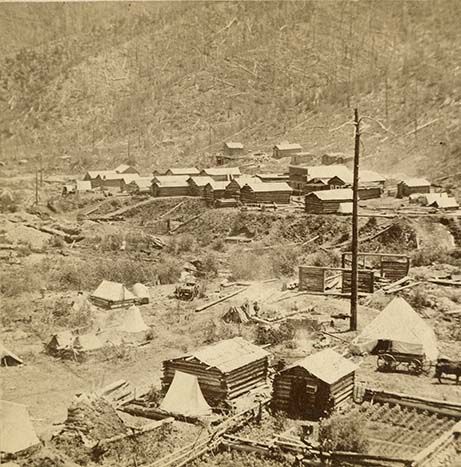 Prospector, pioneer, killer.
All those words could be used to describe William Gay.
Gay and his brother, Alfred, were among the first prospectors in the Black Hills in 1875. The first mining camp in the northern Black Hills was named Gayville after the brothers. At one time, Gayville contained about 250 houses, 30 businesses, extensive quartz and sawmills, an assay office and a brewery. In the 1870s and 1880s, Gayville, Central City and several other mining camps formed an almost continuous settlement of about 10,000 miners, according to "South Dakota Geographic Names" edited by Virginia Driving Hawk Sneve.
Gay operated a saloon and gambling hall in Gayville, according to the "Bad Boys of the Black Hills" by Barbara Fifer. He was also an original stockholder of the townsite company that founded Spearfish in 1876.
Jack Crawford, a professional scout and entertainer hired by the Omaha Daily Bee in January 1876 as its official Black Hills correspondent, frequently mentioned Gay in dispatches to the newspaper. Crawford wrote in different dispatches about receiving a letter from Gay which contained a specimen of quartz which contained gold, of being shown $150 in gold dust by the Gay brothers, and of the hospitality William showed him in Gayville.
Gay also achieved notoriety in 1877 when he killed Lloyd Forbes. According to some sources, Forbes sent Mrs. Gay a note asking her to meet him one evening. It wasn't Mrs. Gay who met Forbes, but William, who shot him. Other sources state that Forbes was just the messenger of the note to Mrs. Gay from an admirer. Either way, Forbes was dead.
Gay was tried and convicted of second-degree manslaughter and sent to a house of correction in Detroit, Mich. Prisoners were sent to Detroit to serve their sentences before a penitentiary was built in Dakota Territory. Mrs. Gay visited her husband in prison, according to an article in the Yankton Daily Press and Dakotaian.
Gay served one year before being pardoned by Dakota Territory Gov. Nehemiah Ordway.
"Petitions bearing the names of nearly every business man and attorney in Deadwood and vicinity were laid before Gov. Ordway by a committee of thirty leading citizens, who went personally to plead for Gay's release. During a public hearing at Deadwood, lasting several days, while many persons called upon the governor to plead Gay's cause, not one person appeared to oppose the prayer of the petitioners. The officers who prosecuted Gay, and the judge who sentenced him, all joined in the request that he be pardoned," stated an article in the Yankton Press and Daily Dakotaian.
Music played and a carriage conducted him to a hotel when Gay returned from prison.
Not everyone rejoiced at the welcome Gay received.
"Of all the disgraceful proceedings which have gone out to the rest of the United States, casting a dark blot on the fair name of Deadwood's civilization, the serenade last night in honor of Bill Gay was, and will prove to be the worst," stated an article in the Deadwood Press.
Gay filed on a homestead in the Spearfish area in 1882. Gay and his family, along with his brother-in-law Harry Gross, moved to Castle, Mont., five years later, according to Fifer.
Both Gay and Gross had run-ins with the law in Montana.
A deputy sheriff was shot when a posse went to arrest the two men. The deputy claimed before dying that Gay shot him. Gay maintained that Gross shot the deputy. Eventually, Gay was sentenced to death for the murder.
Gay wrote to Jack Crawford while in jail in Helena, Mont., "It does seem hard, after all I have done for the early pioneers and Black Hillers, that they would sooner see me hang than put up a dollar to save me."
Crawford, in turn, wrote a letter to the editor of the Anaconda Standard asking for financial aid and that petitions be sent to the governor to help Gay. 
"I knew this man Gay 22 years ago as a pioneer in the Black Hills, as brave, true and generous … I know that his cabin in Gayville was a retreat and a haven of rest for many a weary and footsore traveler and none were ever refused the ever open and generous hospitality … It would be safe I think to assert that not one of his persecutors are possessed of any of these traits of character that belonged in those days to Bill Gay."
Montana Gov. John E. Rickards did receive petitions and letters urging leniency, but to no avail. Even though Gay proclaimed his innocence – practically to the moment of his death –he was hanged in Helena on June 9, 1896.
This moment in South Dakota history is provided by the South Dakota Historical Society Foundation, the nonprofit fundraising partner of the South Dakota State Historical Society at the Cultural Heritage Center in Pierre. Find us on the web at www.sdhsf.org. Contact us at info@sdhsf.org to submit a story idea.