March 2012- The Legislature – Dakota Territorial Style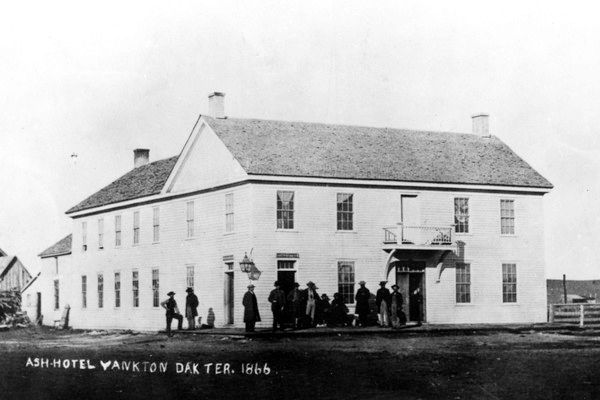 PIERRE – Anything can happen when the Legislature is in session.
That could be said of the first session of the Dakota Territorial Legislature that took place 150 years ago.
When the first session of the Dakota Territorial Legislature began on March 17, 1862, in Yankton, representatives chose George M. Pinney of Bon Homme as the speaker of the house.
According to information from the South Dakota State Historical Society, Yankton legislators backed Pinney for speaker with the understanding that he would support Yankton as the permanent location of the capital. The capital was a prize since most government funds for the territory were spent locally. Instead of backing Yankton for capital, Pinney supported his hometown. When that failed, Pinney tried to get Vermillion named the capital.
Opponents of Pinney decided that their plan of action was to throw the speaker of the house out the window.
Pinney asked for a squad of soldiers be stationed in the Hall of Representatives to preserve order, prevent riot and protect the speaker.
He resigned from the House of Representatives.
He did not escape being tossed out a window, however.
Soon after entering a saloon where legislators had congregated, Pinney was seen coming forcibly through the window of the saloon, bearing the sash with him. The sergeant-at-arms of the House appeared in the opening behind Pinney.
That was not the only fireworks during the session.
During a meal in Yankton's Ash Hotel, a fight broke out between John Boyle, who represented Vermillion, and Enos Stutsman, who represented Yankton. Ketchup bottles, cups, glasses and the skeleton of the fowl on which they had dined were thrown at one another. Stutsman flung himself across the table at Boyle. On-lookers separated the two, and they lived to carry on a verbal fight with one another.
The Pony Congress, as the first legislature came to be known, did accomplish business during the time it was in session. The first Dakota Territorial Legislature passed 91 general laws and 25 special laws. Legislators developed the basic laws which influenced the new state of South Dakota 27 years later, defined the boundaries of 18 counties, established the capital at Yankton, named Vermillion as the site of the territorial university, and prohibited swine and stallions from running free. The foundation of a new territory, and later a new state, had been laid.
This moment in South Dakota history is provided by the South Dakota Historical Society Foundation, the nonprofit fundraising partner of the South Dakota State Historical Society. Find us on the web at www.sdhsf.org