July 2019-Eleanor Gates – The "First" Pioneer Girl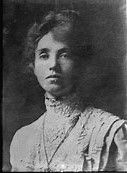 Before Laura, there was Eleanor.
"The Biography of a Prairie Girl" by Eleanor Gates was published in 1902. This was 30 years before the first appearance of Laura Ingalls Wilder's "Little House" series about a girl growing up in a pioneer family. 
"This story is something quite out of the common in the annals of American life," read reviews of "The Biography of a Prairie Girl" that ran in newspapers nationwide. "It relates the experiences of a girl who was born on a Dakota ranch and lived there until, in her sixteenth year, she went away to school, and except for regret at parting with her brothers, went away gladly ... The heroine of the story was an only daughter in a large family of brothers and was much beloved, but even so it was necessary for her to aid in the work of the farm, both indoors and out. As a consequence she was active and strong, fearless and capable. She had many experiences that girls in more conventional surroundings know nothing of, and numerous adventures of a sort not usual."
The author, stated one reviewer, wrote a book of equal interest to settlers and those who "have never known the hardships, the dangers, the troubles and the triumphs of frontier life."
"The purpose of the book is to give a picture of farm life in Dakota during the '70s. I do not exaggerate the somber side of prairie life, nor do I exaggerate the joys," Gates is quoted as saying in newspaper articles. "I believe that the country child grows old sooner than the city child, because the country child oftener does manual labor of a heavy kind when he or she is not physically able to do it. The plainswoman is frequently gray and worn at thirty-eight or forty; the plainsman is often bent, impaired in sight by the sun, and old at forty-five. I do not say that this is always so, but it is commonly so."
Gates was among what the late South Dakota State University English professor Ruth Ann Alexander, writing in Volume 13, No. 3 of the South Dakota State Historical Society quarterly publication "South Dakota History," described as the first generation of women writers to create the pioneer heroine.
Each chapter of "The Biography of a Prairie Girl" describes an activity of pioneer life such as a blizzard, fighting gophers and badgers, herding cattle and breaking colts. 
In letters to state historian Doane Robinson in 1902, Gates wrote that she hoped people would not consider "Prairie Girl" an autobiography. 
'Some experiences are similar to my own, but dressed up to suit my fancy for book use," she wrote. 
Gates also shared some of her background with Robinson. She was born on Sept. 26, 1875, in Shakopee, Minn. The family moved to Minnehaha County in 1877.
"My father is a great lover of the beautiful in nature. Therefore, though I was very young, I was taught to notice the flowers and plants on the plains, the wild animals and waterfowl, the antelope and large game and the constantly changing aspect of the plains and the sky," she wrote.
She wrote that she herded cattle, could ride anything on four legs, went to a school about three miles away and helped with stretching hides in the winter.
"That, in brief, describes my life in Dakota. Every day of it is impressed upon me," she wrote.
Gates' family moved to California when she was 10 years old. She worked as a journalist and attended Stanford University and the University of California – Berkeley. 
Dakota Territory was also the setting for Gates' next book, "The Plow-Woman." Published in 1906, Gates created a fictional pioneer heroine who is determined to stay on the homestead despite claim jumpers, outlaws, blizzards, wild animals and other trials. 
The novel was a serious attempt to render the female western experience artistically, according to Alexander. The heroine, Dallas, is "independent, enterprising, strong, resourceful, courageous, competitive, athletic and self-assured," she wrote.
At least one reviewer did not find "The Plow-Woman" as appealing as "The Biography of a Prairie Girl." 
"The Biography' was rich in description and well merited the extravagant praise it received," stated the reviewer. While the descriptive passages in "The Plow-Woman" were "so vivid and realistic as to make one feel the breezes from the prairie fanning one's cheeks," the narrative was weak.
Gates' book "Cupid, The Cow-Punch," was published in 1907. Reviews stated, "This is a series of stories with a thread of continuation throughout, told by Cupid, the cow-punch, sometimes at his own expense and a good deal of the times at the expense of others … It is a slangy sort of story in which there is much breezy conversation." 
Gates continued to write magazine articles, books and plays. Several of her works were made into movies, and seven of her plays were produced on Broadway. Her best known work was "The Poor Little Rich Girl," published as a book in 1912 and produced as a play in 1913 by her first husband, Richard Walton Tully. It went on to be made into films starring Mary Pickford in 1917 and Shirley Temple in 1936. 
Gates died on March 7, 1951, in Los Angeles after being struck down by an automobile as she stepped from a bus near her home.
This moment in South Dakota history is provided by the South Dakota Historical Society Foundation, the nonprofit fundraising partner of the South Dakota State Historical Society at the Cultural Heritage Center in Pierre. Find us on the web at www.sdhsf.org. Contact us at info@sdhsf.org to submit a story idea.