January 2019-A Leader of Her People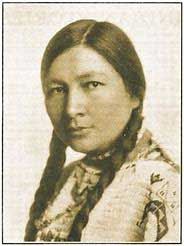 "American Indians today lost one of their staunchest friends and most diligent workers in their behalf, in the death of Mrs. Gertrude Simmons Bonnin," read the Washington, D.C. Evening Star on Jan. 26, 1938.
Bonnin, whose name in Lakota was Zitkala-Sa (zit-KAH-lah-shah) or Red Bird, was a writer, lecturer, musician, teacher and reformer who strove to expand opportunities for American Indians.
"Throughout her life, Zitkala-Sa wrote about American Indian issues, pushing against rose-colored views of boarding schools, Christian ministry, and reservation life," wrote Jennifer McIntyre with the South Dakota Historical Society Press in a blog entry about women who made an impact but whom the general public may no longer recognize.
Zitkala-Sa was born in 1876 (some sources say 1875) on the Yankton Reservation. She attended boarding schools, Earlham College in Richmond, Ind., and the New England Conservatory of Music in Boston, Mass. She was educated during a time when schools' curricula were designed to teach European-American ways and eradicate students' identities as American Indians.
While teaching at Carlisle Indian Industrial School in Pennsylvania, Zitkala-Sa began writing articles about American Indian life for national periodicals.
Her first book, "Old Indian Legends," was published in 1901. It contains 14 legends told her by storytellers in North Dakota and South Dakota. The book was among the first to bring traditional American Indian stories to a white readership. Her book "American Indian Stories" was published in 1921 and contains stories meant to inform white people about American Indians and their circumstances.
Zitkala-Sa co-authored "Oklahoma's Poor Rich Indians," which exposed the mistreatment of American Indians in Oklahoma.
In 1902, she married Raymond Bonnin. They lived on the Uintah Indian Reservation in Utah from 1903 to 1916.
While in Utah, she collaborated with William Hanson on "The Sun Dance" opera. This was the first opera by an American Indian and is significant for adopting the American Indian oral musical traditions into a written one.
"When 'The Sun Dance' was sung in Vernal (Utah), Indians and whites drove in from forty miles around to hear it; and having heard it, they pronounced it a triumph," stated the Arizona Republican in Phoenix on June 16, 1913.
She became a correspondent of the Society of the American Indians, the first reform organization to be administered entirely by American Indians. It sought to preserve the American Indian way of life while lobbying for the right to full American citizenship. Zitkala-Sa became secretary of the Society of the American Indians beginning in 1916. The Bonnins moved to Washington, D.C. that year.
Zitkala-Sa's name often appeared in newspapers for her speaking at clubs and organizations in Washington, D.C. When the stone from South Dakota was placed at the Washington Monument in 1922, Zitkala-Sa read an original poem at the ceremonies.
"The ceremonies attending the placement of the stone were elaborate. But the feature of the occasion, from the viewpoint of many, was the reading of an original prose poem entitled 'A Dacotah Ode to Washington,' by Mrs. Gertrude Bonnin," read an article in the Oct. 19, 1922, Jasper News in Jasper, Mo. The entire poem was printed in the newspaper.
Zitkala-Sa formed the National Council of American Indians in 1926 and served as its president until her death. She advocated for citizenship rights, better educational opportunities, improved health care and cultural recognition and preservation.
A profile of Zitkala-Sa appears in Vol. 10, No. 3 of South Dakota History, the quarterly publication of the South Dakota State Historical Society. Her story "Dance in a Buffalo Skull" was republished as a children's book by the South Dakota Historical Society Press. Her books are still in print.
This moment in South Dakota history is provided by the South Dakota Historical Society Foundation, the nonprofit fundraising partner of the South Dakota State Historical Society at the Cultural Heritage Center in Pierre. Find us on the web at www.sdhsf.org. Contact us at info@sdhsf.org to submit a story idea.