January 2018-The King in South Dakota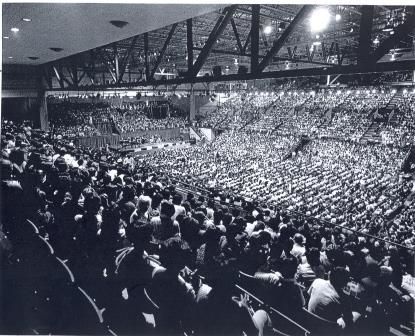 The King was coming.
The King of Rock 'n' Roll, Elvis Presley, was coming to perform in the Rushmore Plaza Civic Center in Rapid City to celebrate its grand opening.
"Saws were buzzing, special lights positioned, stage sections assembled and concession items stockpiled at the Rushmore Plaza Civic Center last week," read an article by Jeri Gulbransen in the June 19, 1977, Rapid City Journal. "And the flurry of activity is scheduled to increase Monday and Tuesday in preparation for the grand opening concert starring Elvis Presley on Tuesday night."
Presley was born to Vernon and Gladys Presley on Jan. 8, 1935, in East Tupelo, Miss. He recorded his first single, "That's All Right" on July 5, 1954, and was an international sensation by 1956. By the time he came to Rapid City in 1977, reviews seemed to focus more on Presley's weight and sometimes bizarre behavior than on his singing. But to Gulbransen, Presley still wore the crown as the King of Rock.
"Elvis Presley sang, swiveled his hips, played the guitar, threw scarves, cracked a few jokes and gave the capacity audience at the grand opening of the Rushmore Plaza Civic Center their money's worth Tuesday night," Gulbransen wrote of the June 21, 1977, performance in a review headlined "There's no doubt about it – Elvis is still 'king.'"
More than 10,000 people, most of them purchasing tickets for $15.00, attended the concert. Backstage, Rapid City Mayor Art LaCroix presented Presley with a plaque thanking him for giving the inaugural concert, and young Monique Brave gave Presley a hand-beaded medallion of life. He also received a T-shirt promoting the Boys Club Rent-A-Kid program.
But while Presley was presented with gifts, he arguably gave the audience more: seeing and hearing what Gulbransen described as a super performer in action.
"From 'Jailhouse Rock' and 'Are you Lonesome Tonight' to 'If You Love Me Let Me Know,' Elvis gave old favorites and newer songs a real crooning treatment.
"Although the gyrations that helped boost Elvis to popularity with teenage girls in the '50s are fewer and farther apart, the voice that continued to sell gold record after gold record sounded even better in person," Gulbransen wrote.
The show in Rapid City, along with a show in Omaha, was recorded by RCA and CBS for a planned television special.
On June 22, 1977, a day after the Rapid City show, Presley performed at the Sioux Falls Arena.
"With a voice as distinctive as has ever blistered a concert hall, Elvis and his backup performers presented the capacity crowd of 8,189 with hand-clapping spirituals, down home country and western tunes full of cheatin' hearts and the obligatory Presley standards like 'Jailhouse Rock,' 'Teddy Bear' and 'It's Now or Never.' And the crowd loved it," wrote Sioux Falls Argus-Leader Entertainment Editor Hugh O'Gara.
The one-hour performance by Presley produced a display of pyrotechnics unrivaled since the Fourth of July as fans lit the Arena with flashbulbs, O'Gara wrote.
Fans rushed the stage clamoring for the blue scarves Presley tossed from around his neck and presented him with roses.
This was the second concert that Presley had played in Sioux Falls in less than a year. The King's first concert in that city was on Oct. 18, 1976. Presley arrived on his private jet, and he and his entourage occupied the top three floors of the Holiday Inn City Centre.
O'Gara wrote of the 1976 concert, "Presley, fighting middle age spread and losing, is still as flashy, magnetic and outrageous as he was in 1957 when he appeared on the Ed Sullivan Show … from the waist up."
The three South Dakota shows all seemed to follow the same pattern: performances by Presley's band, a Gospel quartet, a comedian and a female trio, intermission and the arrival of Presley clad in a white gold-sequined jumpsuit.
The 1977 South Dakota concerts were among the last Presley gave. He died at age 42 in Memphis, Tenn., on Aug. 16, 1977. He still has a presence in the Mount Rushmore State, as a motorcycle belonging to The King can be seen at the Pioneer Auto Museum in Murdo and the National Music Museum in Vermillion preserves Presley's C.F. Martin & Co.'s D-35 Dreadnaught guitar made in 1975 and played by him in 29 concerts between Oct. 17, 1976, and Feb. 14, 1977.
This moment in South Dakota history is provided by the South Dakota Historical Society Foundation, the nonprofit fundraising partner of the South Dakota State Historical Society at the Cultural Heritage Center in Pierre. Find us on the web at www.sdhsf.org. Contact us at info@sdhsf.org to submit a story idea.