February 2019-The Friendship Between Lydia Norbeck and Grace Coolidge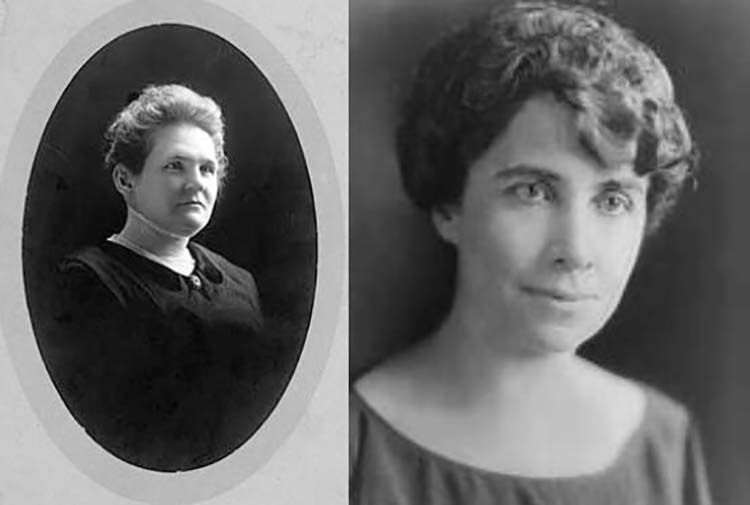 On March 4, 1929, Sen. Peter Norbeck and his wife Lydia were in Washington, D.C., to watch as Herbert Hoover was sworn in as president of the United States and his predecessor left the nation's capital.
"Immediately after the ceremonies, President and Mrs. Coolidge left for Northampton (Mass.). I was sorry to see Mrs. Coolidge leave, as I truly loved her," Lydia wrote in her memoirs. Volume 39 of "South Dakota Historical Collections" contains Lydia Norbeck's "Recollections of the Years," edited by Nancy Tystad Koupal. The memoir, written in 1953 when Lydia was 80, contains numerous mentions of a friendship that has benefitted all South Dakotans.
Lydia Norbeck and Grace Coolidge first met in 1920 at a meeting for governors in Harrisburg, Penn. Peter Norbeck was governor of South Dakota and Calvin Coolidge was governor of Massachusetts.
"From my first meeting with Mrs. Coolidge I was impressed by her obvious sincerity and serenity," Lydia wrote.
Grace was noted for her charm and her love of people, outdoor activity and animals. Lydia was known as a gracious hostess with a magnetic personality.
When the two women met again in Washington, D.C., Peter Norbeck was a senator and Calvin Coolidge was vice president. As wife of the vice president, who presided over the Senate, Grace presided over meetings of the Senate Ladies Club.
"On St. Valentine's Day, 1922, I acted on an impulse and wrote her a letter expressing my love and admiration (which was proper as a valentine). I told her how much she meant to the Senate Ladies by just being her own sweet, natural self. Imagine my surprise the next day on receiving the President's and Mrs. Coolidge's card together with the dearest letter from her, sent by a messenger!" Lydia wrote.
The friendship between Lydia and Grace might possibly have been a factor in the Coolidges spending the summer of 1927 in the Black Hills, according to various sources, including "Calving Coolidge in the Black Hills" by Seth Tupper. The Coolidges lived at the State Game Lodge, while he Norbecks stayed in a log cabin about a mile away.
The Norbecks accompanied the Coolidges to Belle Fourche for the Tri-State Roundup – the first rodeo the Coolidges had seen. The Norbecks also accompanied the Coolidges to other events and were the Coolidges' dinner guests at the State Game Lodge one evening.
"Before the summer was over, I got up enough courage to ask the President's secretary if I could entertain the Coolidges at dinner at our cabin … Imagine the President and his wife having dinner at our little cabin! … She was bubbling over with pleasure. She has a keen mind and a quick sense of humor, which she needed, as the President was often taciturn and could be rude at times. I respected Mr. Coolidge because he was always his natural self, never pretending nor presuming," Lydia wrote.
While in the Black Hills, the president dedicated Mount Rushmore and handed drills to sculptor Gutzon Borglum so that official carving could begin. Coolidge's actions helped bring national interest and federal money for the project.
The 90 days the first couple spent in the Black Hills also attracted national attention to the region.
"Truly, South Dakota was like a magnet that year for thousands of people from all over the country, and the envy of all the surrounding states, with the double attraction of a President vacationing in our midst and the prospect of the largest monument sculpture in the world," Lydia wrote.
Calvin Coolidge never returned to the Black Hills, but he didn't forget South Dakota, either, as president. He signed legislation one week before he left office that provided $250,000 of federal money to be matched by private donations for Mount Rushmore. And on his last day in office, March 4, 1929, Coolidge signed a law authorizing Badlands National Monument.
The friendship between Lydia and Grace continued throughout their lifetimes.
 "When, years later, she wrote me of the arrival of a new granddaughter who was to be named 'Lydia,' I was very pleased," Lydia wrote. Lydia Coolidge was born Aug. 14, 1939, the second daughter of John and Florence Coolidge.
Grace Coolidge died at the age of 78, on July 8, 1957, at Northampton, Mass. Lydia Norbeck was 88 years old when she died on Dec. 26, 1961, in Pierre.
This moment in South Dakota history is provided by the South Dakota Historical Society Foundation, the nonprofit fundraising partner of the South Dakota State Historical Society at the Cultural Heritage Center in Pierre. Find us on the web at www.sdhsf.org. Contact us at info@sdhsf.org to submit a story idea.