February 2014 - A Visionary Leader for South Dakota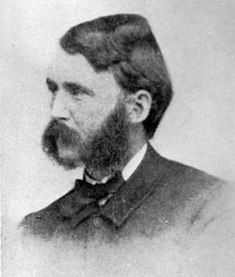 A Visionary Leader for South Dakota
"A minister, educator, government leader, humanitarian and easterner."
Sen. George McGovern used those words to summarize the life of the Rev. Joseph Ward when cosponsoring a resolution that a statue of Ward be placed in the nation's Capitol.
Ward's life and accomplishments are a silver thread that runs through the history of Dakota Territory. His efforts helped lead to South Dakota's becoming a state 125 years ago.
Ward was born on May 5, 1838, near Perry Center, N.Y. When he was about 18, he journeyed to the frontier of Illinois and spent a year as a teacher and farmer. He returned to the East to attend Phillips Academy at Andover, Mass., a boarding high school. He went on to graduate from Brown University at Providence, R.I., and at Andover Theological Seminary in Massachusetts, interrupting his studies to serve on the Union Army in the Civil War.
When finishing his studies at Andover Theological Seminary, Ward accepted a call to be a pastor in California. Just as he was about to sail for California, he received word that the church had called another man to be its pastor. Ward accepted a call that he had turned down while still in seminary – taking charge of a new missionary effort in Dakota Territory. Dakota Territory had been organized in 1861 and consisted of what are now North Dakota, South Dakota, and parts of Wyoming, Montana and Idaho.
Ward and his wife, Sarah, arrived at the territorial capital of Yankton on Nov. 6, 1868.
He was "a little more than six feet tall, straight as a bean pole, heavy burnside whiskers that reached out to his shoulders, heavy mustache, high forehead, light hair, and those wonderful eyes that spoke love, brotherliness and kindness wherever they turned," was the description given to Ward by Dr. Reuben A. Beard during a program honoring Ward.
As the first minister called to the first Congregational Church in Dakota Territory, Ward presided over a congregation of about 10. The first service took place in the territorial Capitol, a small two-story building. Ward raised money in the East and a church was built in 1870. The congregation grew to 307 by 1883.
One of Ward's missions was promoting Christian education. He started a private school, which became the Yankton Academy in 1872. It eventually became the first public high school in South Dakota.
The minister organized and became the first president of Yankton College, the first college in Dakota Territory, in 1881. The first graduating class consisted of one person. In the commencement address, Ward hailed the graduate as "the first of a thousand to come." Rhodes scholars, educators, lawyers, doctors, musicians, artists and athletes emerged from Yankton College before it closed in 1984.
With Territorial Gov. William Howard, Ward assisted in establishing in Yankton what was then called the Dakota Asylum for the Insane. Ward served as secretary of a government commission that met leaders of American Indian tribes on the upper Missouri plains region and tried to establish friendly relations between them and the government.
In 1879, Ward and several other prominent Yankton residents were invited to Thanksgiving dinner in Yankton at the home of Ward's brother-in-law, the Rev. Stewart Sheldon. The potential for statehood was the main topic of discussion. Ward became a leader in the movement for statehood. He was a member of the constitutional conventions in 1883 and 1885. He was among those who, under the leadership of Gen. W.H.H. Beadle, forced provisions in the state constitution that preserved the school lands. Ward helped a committee draw up a tentative state constitution which subsequently was adopted as the constitution of the state of South Dakota. He was the author of the state motto "Under God the People Rule." The design of the great seal of South Dakota is the result of his written description.
Ward died on Dec. 11, 1889, in Yankton as a result of diabetes. He had lived to see South Dakota achieve statehood on Nov. 2, 1889.
"Aside from his work in church and college, Dr. Ward has been without doubt the foremost citizen of Yankton, interested in every project to promote the settlement and the growth of this entire region. Some of the most important commercial achievements of this city were due to his skill and wisdom; the state owes him a debt of gratitude for persistent efforts for its advancement and statehood, and he has left his mark in its constitution," stated the Yankton Daily Press and Dakotan in an article announcing Ward's death.
Ward was given the degree of Doctor of Divinity by Knox College, Ill., in 1888.
He was posthumously recognized as one of the great men in the 300 years of history of the Congregational Church in 1910. A statue of Ward was dedicated in 1963 in the United States Capitol as South Dakota's contribution to the famous American men and woman who are commemorated in its Statuary Hall.
This moment in South Dakota history is provided by the South Dakota Historical Society Foundation, the nonprofit fundraising partner of the South Dakota State Historical Society. Find us on the web at www.sdhsf.org. Contact us at info@sdhsf.org to submit a story idea.