August 2021-Is it an airplane, star or flying saucer?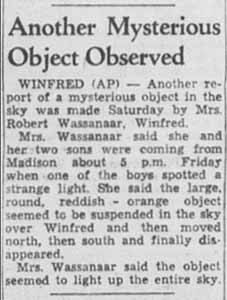 August 2021-Is it an airplane, star or flying saucer?
South Dakota is known as flyover country.
This term about aircraft passing over a place applies not only to commercial flights, but to unidentified flying objects.
An unidentified flying object is any perceived aerial phenomenon that cannot immediately be identified or explained. Unidentified lights and flying objects have been reported in the skies for much of human history.
The National Unidentified Flying Object Reporting Center lists about 350 reported sightings of objects described as resembling dinner plates, orbs, saucers, glowing objects, fire balls, Ferris wheels, globes and more in the skies over the Mount Rushmore state. Most of the listings are from 1947 on.
The most recent sighting posted on the NUFORC home page occurred on June 21, 2021, at Sturgis. It was reported that an extremely fast light streaked five times in the same small portion of the night sky, followed by a dimmer light that traveled slower before disappearing suddenly. The light did not leave a trail, like a shooting star would. 
A much earlier sighting was recorded by Annie Tallent, a member of the Gordon Party which illegally entered the Black Hills in 1874. The Fort Laramie Treaty of 1868 had closed the Black Hills to white exploration and settlement.
The Gordon Party arrived in the Custer area early in the winter of 1874-1875 and began building a fortress called the Gordon Stockade. Tallent wrote:
"About noon, on a clear, cold day, an awful rushing, roaring sound was heard above and to the north of us. It was almost directly over our camp. Everyone immediately looked in that direction and saw an object rushing through the air from east to west, not more than one half mile above the tree tops, and seemingly not more than three quarter of a mile distant from us.
"It seemed almost white and looked at least if it might be 30 or 40 feet diameter, although its size could not be ascertained with any degree of accuracy. As it seemed surrounded with steam or smoke, it did not appear to be falling but continued in a horizontal course. Three or four seconds after having passed out of our sight to the west, a report was heard that fairly shook the Hills, while its track clouds of smoke were left that could be seen for 20 minutes after. 
"It was the grandest sight I had ever witnessed … There was one thing that was very evident, immediately after this sighting, the weather began to grow colder, and continued to increase in intensity each day for about three weeks."
The military expelled the entire party from the Black Hills in March 1875, but Tallent and her family later returned to the Black Hills. She gained fame as the first white woman in the Black Hills.
"The Flying Saucer Reader" edited by Jay David contains an Ellsworth Air Force Base UFO incident. The Air Defense Command radar station at Ellsworth Air Force Base received a report of an extremely bright light low on the horizon northeast of Black Hawk on Aug. 12, 1953. The object's presence was confirmed by radar. An F-84 was dispatched to intercept the object. The pilot located the UFO, but it always maintained a distance of about three miles from the jet. The F-84 returned to Ellsworth, with the UFO following about 10-15 miles behind. The unusual activity was no longer a secret by this time, and other pilots at Ellsworth wanted to intercept the object. Another F-84 was soon airborne. The pilot saw lights of the unidentified aircraft, but again, the UFO stayed about three miles away. The pilot broke off the intercept. The UFO went off the radar. A fast-moving, bright bluish-white light was soon spotted west of Fargo, N.D. 
From September until the end of 1956, strange objects and fireballs were reported in Rapid City, Redfield, Mobridge, McLaughlin, Lemmon, Aberdeen, Pierre, Mitchell, Martin and Hot Springs. In Onida, two men told of seeing a red light hovering "like a duck" northeast of town. Two Webster High School boys reported seeing a strange object giving off "an unearthly, flashing red light." A South Dakota Highway patrolman and a dispatcher for the state radio system traveling about 25 miles east of Pierre on S.D. Highway 34 topped a hill and saw an object below them in a valley. As they neared it, the object rose and withdrew to a distance of a mile or more from them and hovered there. 
The question might not be, "Do you believe UFOs exist?" but "Why don't you believe in UFOs?"
This moment in South Dakota history is provided by the South Dakota Historical Society Foundation, the nonprofit fundraising partner of the South Dakota State Historical Society at the Cultural Heritage Center in Pierre. Find us on the web at www.sdhsf.org. Contact us at info@sdhsf.org to submit a story idea