August 2019-Great Things Come from Humble Beginnings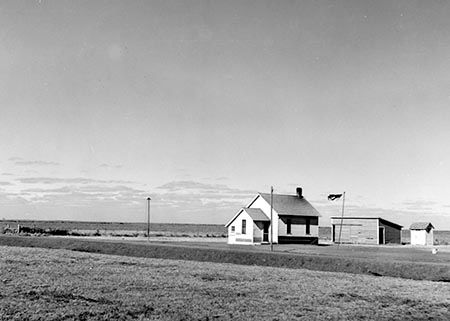 Transportation to school had four legs instead of four wheels.
The late South Dakota Gov. Walter Dale Miller rode a Shetland pony to and from the rural school he attended from 1931 to 1939. Red Top School was located three-quarters of a mile from his home north of New Underwood. Several generations of the Miller family received their elementary school education in the rural school, named for the red shingles on the roof.
In 1931-32, when Miller started school, there were approximately 4,731 one-room schools operating in South Dakota, according to "One-Room Country School: South Dakota Stories" edited by Norma C. Wilson and Charles L. Woodard. This was down from a peak of 5,011 in 1916. In a typical one-room school, also known as country or rural schools, one teacher taught academic basics to elementary-age boys and girls. 
Betsey DeLoache, now of South Carolina and formerly of Pierre, has published two volumes containing  memories and experiences of pupils and teachers from rural schools, with a third volume to be published later this year. Almost 1,000 people, the majority of them from South Dakota, have shared their stories with her.
"I think it was an exceptionally nice way of educating kids," DeLoache said of rural schools. "The people who told me their stories became leaders. Going to a country school gave kids a sense of confidence. They learned life skills."
Miller's school day, as recorded in "Country Schools: Past and Present" by DeLoache, began with students raising the flag. The Pledge of Allegiance was recited, according to DeLoache.  There was a recess in the morning, lunch recess and afternoon recess. The teacher called students in from recess by ringing a hand bell.
Miller brought a lunch of sandwiches, fruit and cake in a paper sack or syrup pail. 
Miller recalled that the teacher would read stories such as "Uncle Tom's Cabin." Red Top School had shelves for a few books and a traveling library came from the county to rotate the books. A stove in the rear of the school kept it warm. The school board delivered coal to a coalhouse near the water pump, and one of the students' chores was to get coal and wood for the stove. Pupils also cleaned the blackboards and erasers, and pumped drinking water from the well.  At the end of the school day, students lowered the flag and properly folded it.
At recess, Miller and other pupils played on the teeter-totter and swing set and played games such as "Annie-I-Over." In winter they made snow forts and played "Fox and Geese." 
Gail Ferris of Pierre began attending South Star School in Jones County in 1953. The school's water supply was one of the memories she shared with DeLoache.
"We were perfectly unsanitary … we all drank from the same dipper, put in the same crock of water dipped from the cistern. We weren't taught to wash our hands (I was at home, however) as water was in short supply there!"  Ferris said.
While she and other students at South Star played games such as "Red Rover" and "Annie-I-Over," they had one other special form of entertainment. 
"We'd pile up boards, bricks, big rocks … whatever … to make a base, lay a board over it and then … one kid would stand on one end and another kid or two would jump on the other end, catapulting the one kid into the air! That could have ended badly, but it didn't," Ferris told DeLoache.
Students studied spelling, reading, arithmetic, history, geography and writing. They practiced penmanship using the Palmer Method by making ovals and slashes over and over again on paper printed with special lines that ensured the height of letters. Many schools had a piano that the teacher or students played. Some schools would have an art afternoon on Fridays. 
The Young Citizens League was part of Miller's education. YCL was a program to teach citizenship and develop leadership and character.
In DeLoache's book, DeAnn Hilmoe of Pierre told about an annual school event that brought the whole community together: the school Christmas program. Hilmoe attended Tuthill School in Bennett County from 1960-1968. 
"Every year we would memorize and rehearse poetry, songs, and plays or musicals for our Christmas program. The bigger kids would bring the stage materials and curtains from the basement, and we'd set it up in the week before the program. Some years, the Nativity story was an important part of the program, and other times they were more secular, but still Christmas themed," Hilmoe said.
The last day of school usually meant a field day of playing games, and students received their report cards informing them if they were ready to advance to the next grade.
"What I think about most now is how flexible and diverse the teachers needed to be to teach a range of eight grades!" Ferris said. "Preparing lesson plans to suit the county school superintendent and dealing with the various emotions of such different aged kids! We all learned to play together, protect each other and probably learned from each other."
This moment in South Dakota history is provided by the South Dakota Historical Society Foundation, the nonprofit fundraising partner of the South Dakota State Historical Society at the Cultural Heritage Center in Pierre. Find us on the web at www.sdhsf.org. Contact us at info@sdhsf.org to submit a story idea.