April 2015 - The Destructive Power of Prairie Fires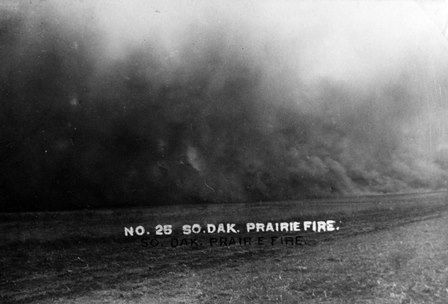 Fire!
On the prairie, it was a monster of destruction without pity, consuming everything before it.
"Every spear of hay which the farmers had gathered for winter feed is gone, the corn fields are all practically ruined and it is probable that the cattle which were saved will now have to be sold, as it will be impossible for the farmers to buy all their feed," stated an article in the Aberdeen Weekly about a prairie fire that swept through western Brown County on Nov. 15, 1905, laying ruin to an area about 20 miles long and five miles wide.
The front of a fire was called a "headfire," according to "Sheldon's History and Stories of Nebraska." It ran with the wind across miles of prairie, jumping fireguards and even rivers. Behind it the prairie roared and crackled, resembling a lake of fire with a cloud of smoke rising above it. A high wind usually accompanied the fire, causing the flames to spread rapidly. The heat created a powerful current of air that rushed toward the blaze and sucked everything with it.
Abbie Jarvis, her husband Matthew and their two sons came to Redfield, Dakota Territory, in 1880. They later homesteaded near Redfield and Faulkton. One hot summer day, the winds came out of the west and nearly blew over their shanty. Right behind the wind came the flames of a prairie fire. Jarvis's father had given her a sewing machine, and she was determined to save it. She dragged the sewing machine to plowed ground and covered it with a piece of old carpet soaked in water. The sewing machine was saved.
Settlers often built what was called a fireguard around their buildings by breaking a narrow strip of sod, and at some distance inside of that, breaking another narrow strip and then burning the grass between the strips. This would stop most common fires and keep the settler's home and barn safe.
Fire fighting fire was another common way to stop a prairie fire. A counter-fire or back-fire was lit. When the prairie fire reached the burnt area, it ran out of fuel and grew less until it finally died away, or skirted the two ends of the backfire and continued its destruction.
Ike Blasingame recalled how cowboys working for large cattle companies in western South Dakota in the early 1900s combated prairie fires in "Dakota Cowboy." The chuck wagon was sent to the nearest stream so the water barrels hanging on each side could be filled, then the chuck wagon rushed to the men beating at the burning grass with saddle blankets, coats or anything else that was available. Cowboys used horses to pull fire drags made of steel chains and 12-foot asbestos sheets. "It took the combined efforts of six saddle horses to move them. So great was the strain, and so foamy-hot would our horses get that we had to change these heaving-flank mounts for fresh ones every two hours," Blasingame wrote.
In "Land of the Burnt Thigh," Edith Eudora Kohl wrote how she and her sister, Ida Mary, were homesteading near the Lower Brule Reservation in 1909, when prairie fires began to break out all around the area.
"The homesteaders began to be afraid to leave their shacks for fear they would find them gone on their return. Ammunition for the fight was pitifully meager. They fought with plows that turned firebreaks, back-fired to stop the progress of the fire, beat it out with their wet sacks," Kohl wrote.
One afternoon she and Ida Mary smelled smoke. Their claim shack was burning to the ground.
"We clung to each other wordlessly. There was nothing to say. Everything that made up our daily life and our plans for the future had been wiped out in thirty minutes," Kohl wrote.
A prairie fire held no respect for crops, livestock, buildings or people.
On April 17, 1886, Betsy Dalagher and her mother saw a prairie fire coming toward their homestead north of Webster. A neighbor had set fire to his slough and strong winds caused the fire to burn out of control. The women left the house to release the livestock from the barn, but became trapped in the flaming barn. Betsy survived by running out of the barn and jumping into a well. Her mother, though, perished in the fire, possibly the first person to die in a prairie fire in Dakota Territory, according to "Roadside History of South Dakota" by Linda Hasselstrom.
Despite the ever-present threat of danger and disappointment, many homesteaders seemed to maintain a sense of hope.
On March 24, 1910, Mrs. Clifford Jencks of Brushie, S.D., located in eastern Meade County, wrote a letter describing how a fire estimated at least 25 miles wide and 100 miles long had swept over the area, destroying their hay and barn. "Now don't worry over our little loss for if it rains and sunshines, grass will grow again and make more hay and we will fix up another barn. As long as we keep well we can get along all right."
This moment in South Dakota history is provided by the South Dakota Historical Society Foundation, the nonprofit fundraising partner of the South Dakota State Historical Society at the Cultural Heritage Center in Pierre. Find us on the web at www.sdhsf.org. Contact us at info@sdhsf.org to submit a story idea.
The above photograph is courtesy of the South Dakota State Archives and is of a prairie fire near Strandburg circa 1900s.