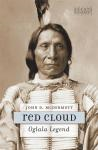 A South Dakota State Historical Society Press Publication

"No Indian of modern times can compare with him in ability, courage and statecraft."—Denver Times, 16 April 1902

A celebrated warrior who led his people to victory on the battlefield, Red Cloud was also a skilled diplomat who transitioned the Oglala Sioux to reservation life. In Red Cloud: Oglala Legend, John D. McDermott examines Red Cloud's early years, his rise to prominence, and his struggle to protect his people from cultural domination.

McDermott goes beyond Red Cloud's War to focus on the Oglala chief's time as a statesman. Chronicling the chief's diplomatic trips to the United States capital, the author examines the changes in Red Cloud's vision of armed resistance and his long-term strategy for maintaining Oglala life and culture. Through negotiation, passive resistance, and selective integration, Red Cloud worked to defend his people's interests in the face of change.

As the only American Indian leader to win a war against the United States Army, Red Cloud is a larger-than-life figure in the history of the West. McDermott adds new layers to the story of the chief, illuminating his early youth and worldview through little-used sources.

Red Cloud: Oglala Legend is the fourth book in the South Dakota Biography Series, which highlights some of the state's most famous residents.

John D. McDermott is a research historian who has written numerous articles and books on western history, including Red Cloud's War: The Bozeman Trail, 1866–1868 (2011). He is a former historian for the National Park Service and policy director for the President's Advisory Council on Historic Preservation. Now residing in Rapid City, South Dakota, McDermott also co-founded the Frontier Heritage Alliance promoting cultural heritage tourism and historic preservation throughout the West.