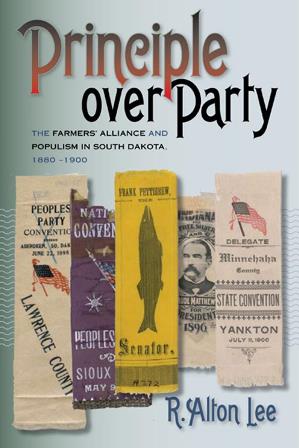 A South Dakota State Historical Society Press Publication

Short-listed for the 2012 Great Plains Distinguished Book Prize

South Dakota's role in the nineteenth-century political movement

The Populist movement of the 1890s was one of the most successful third-party initiatives in United States history. Although it never elected a president, this movement seated governors, congressmen, and United States senators, and played a major political role in a number of states, including all the Great Plains states then in the nation.

Populism has been thoroughly studied in many areas of the country, but South Dakota has, so far, been neglected. R. Alton Lee's Principle over Party begins to correct this oversight, shining light on the prominent South Dakotans who strode down the path to the progressive agrarian politics that dominated the state in the late 1880s and early 1900s.

Lee examines the causes that led South Dakota farmers to rise up against the establishment and take their fate into their own hands. He discusses prominent figures Henry Loucks and Alonzo Wardall as well as political and social movements such as the Farmers' Alliance. Together these men and their organizations sowed the seeds of the Populist Party in South Dakota.

Principle over Party showcases the successes and failures of one of the most lasting political movements in this nation's history.