The Return of the Buffaloes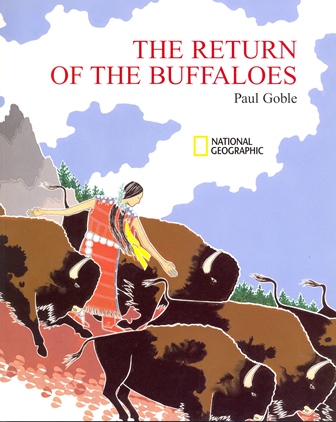 It is told that at times of great need a beautiful and mysterious woman brings back the buffalo. She is one of the Buffalo People transformed into a woman, sent by her Buffalo Nation to tell humankind of their great love and the gift of themselves so that people can live. Here she appears to two young men who are searching for the buffalo herds. She tells them, "I will feed your people," and the story relates that she brought the buffaloes out of Wind Cave in the Black Hills of South Dakota.

Born and raised in England, Caldecott-medalist Paul Goble has lived in the Black Hills of South Dakota with his wife, Janet, for more than thirty years. He has authored and illustrated forty books on American Indian subjects and has received numerous awards for his work, including the prestigious Caldecott Medal. Goble is a member of the Royal Society of Art, served as Artist in Residence at Mount Rushmore, and received a Ph.D. in humane studies from South Dakota State University.