The Gift of the Sacred Dog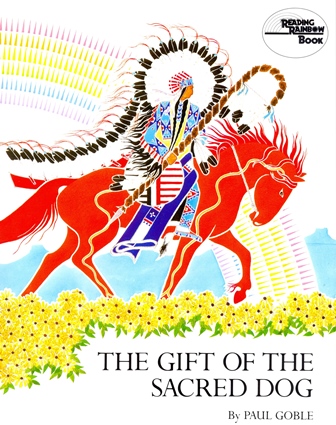 A brave boy goes into the hills and prays for help for is people. A rider on a magnificent animal comes to him and says: "This animal is called the Sacred Dog. He can do many things your dogs can do and also more....He is as the wind: gentle but sometimes frightening." The clouds close and suddenly one by one countless Sacred Dogs course down from the sky. And so the courage of one determined boy is rewarded by the Great Spirit: The horse, or Sacred Dog, is given to his tribe.

Born and raised in England, Caldecott-medalist Paul Goble has lived in the Black Hills of South Dakota with his wife, Janet, for more than thirty years. He has authored and illustrated forty books on American Indian subjects and has received numerous awards for his work, including the prestigious Caldecott Medal. Goble is a member of the Royal Society of Art, served as Artist in Residence at Mount Rushmore, and received a Ph.D. in humane studies from South Dakota State University.