Tatanka and the Lakota People: A Creation Story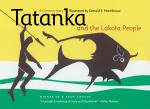 A South Dakota State Historical Society Press Publication

Winner of a 2007 Aesop Accolade from the Children's Folklore Section of the American Folklore Society

Winner of a Spur Award from Western Writers of America in the Storyteller category

Winner of a Silver IPPY from Independent Publisher for Juvenile/Teen/Young Adult Multicultural Non-fiction

Winner of a Gold Medal from the Moonbeam Children's Book Awards for Multicultural Non-fiction

Award-Winner in the Children's Non-fiction category of the National Best Books 2007 Awards

Part of the Lakota creation legend and based on centuries of storytelling, Tatanka and the Lakota People tells how the buffalo came to live with the Lakotas, so that they would have life-sustaining food, shelter, and clothing.

Presented in Lakota as well as in English, this book describes the Lakotas' creation, the trickery that caused them to move from the Underworld and their ultimate survival in this world. Its dynamic color illustrations by Lakota artist Donald F. Montileaux are full of familiar characters, including not only Tatanka the Holy Man but also the Great Spirits and Iktomi the Spider. Together, the words and pictures capture the imagination of children and the interest of adults.

The book includes an introduction and a concluding note from the illustrator, discussing his illustrations and their connection with traditional buffalo-hide paintings.

This book is perfectly suited to young readers who are interested in exploring their own and other cultures.