Seth Bullock, Black Hills Lawman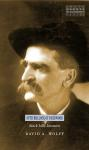 A South Dakota State Historical Society Press Publication

Unheralded but vital figure in the development of the Black Hills

Much of Seth Bullock's modern renown comes from television, motion pictures, and his friendship with President Theodore Roosevelt. But Bullock was much more than the frontier law enforcer portrayed in fictional accounts. In Seth Bullock: Black Hills Lawman, David Wolff examines the life work of Bullock as he helped build Deadwood, found the town of Belle Fourche, and promote the Black Hills.

Wolff explores the many ventures that Bullock delved into once he moved from Montana to the Black Hills at the start of the gold rush in 1876. He points out that Bullock quickly became an integral part of the burgeoning community, attempting to create a lasting legacy for himself by working within local and regional politics, through his various businesses, and in his many positions at the forefront of Black Hills law enforcement and forest management.

Bullock's life epitomized that of many entrepreneurs and pioneers across the nation, and Wolff describes the struggles and successes that this thinker and dreamer experienced in his forty-three years in the Black Hills.

Seth Bullock: Black Hills Lawman is the third book in the South Dakota Biography Series, which highlights some of the state's most famous residents.