Pioneer Girl: The Annotated Autobiography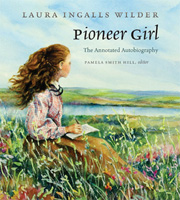 A South Dakota State Historical Society Press Publication
Pioneer Girl: The Annotated Autobiography
By Laura Ingalls Wilder;
Pamela Smith Hill, editor
Follow the real Laura Ingalls and her family as they make their way west—and discover that truth is as remarkable as fiction.
Hidden away since 1930, Laura Ingalls Wilder's original autobiography reveals the true stories of her pioneering life. Some of her experiences will be familiar; some will be a surprise. Pioneer Girl: The Annotated Autobiography re-introduces readers to the woman who defined the pioneer experience for millions of people around the world.
Publication price: $35.95 plus $7.50 shipping
ISBN 978-0-9845041-7-6, hardcover
8 maps and 125 black-and-white images throughout

Pioneer Girl: The Annotated Autobiography is a publication of the Pioneer Girl Project, which is a research and publishing program of the South Dakota State Historical Society. For more information, visit www.pioneergirlproject.org.